The Memorial Court Fountain, one of Fresno State's most recognizable campus landmarks, will be rededicated at 10 a.m. Thursday, May 3, when renovations that were a Centennial gift from the Class of 2011 are unveiled.
New are concrete benches around the fountain, a rim, an enhanced outer finish, raised planters with flower beds and colored, programmable, cost-efficient LED lighting in the upper and lower bowls that displays different colors at different times.
Associated Students Inc. (ASI) and the University Student Union (USU) Board of Directors donated $40,000 on behalf of the Class of 2011.
ASI President Selena Farnesi and USU Board chair Yesenia Carrillo will be joined by Dr. John D. Welty, the Fresno State president, and Robert Boyd, associate vice president for Facilities Management, at a ceremonial ribbon cutting.
The fountain was dedicated in 1962 by Gerald Lee Tahajian, the 1962-63 student body president who presented it to Fresno State College President Arnold Joyal. Tahajian, a lawyer, will be recognized at the ceremony.  
A plaque commemorating the spirit of the student gift will be presented at the ceremony, Farnesi said.
The student organizations first presented redesign plans by Robert Boro, a Fresno landscape architect, during the Veterans Day celebration in November. Renovation work began in mid-March by Clean Cut Landscaping.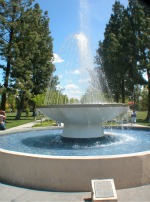 The students worked closely with the university's Facilities Management department, which oversaw the project and also contributed about $25,000 in scheduled maintenance funds for the project said Boyd. The scheduled maintenance included polishing the interior tile and sandblasting, replastering and refinishing cracks underneath the upper bowl, Boyd said.
The fountain is in Memorial Court in the center of the academic campus south of the Kennel Bookstore. The court honors alumni who lost their lives World War II and the Korean War. Trees with commemorative plaques at their base and concrete benches line two walkways that begin at the fountain and go east towards the Rose Garden.
The fountain was presented as a gift to Fresno State from the Classes of 1957 and 1959-'63 – and from Mr. and Mrs. John Masten, a former agriculture professor who contributed many of the trees along the Memorial Court walkway. The Mastens donated in memory their daughter, Louise Masten Jensen, who graduated in 1951.
A year ago, the ASI buried a time capsule near the fountain, to be opened in 50 years, to commemorate the university's Centennial.
For more information, contact Associated Students Inc. at 559.278.2656.
(University Communications student news assistant Nicole Maul contributed to this copy.)
Related links:
[nggallery id=17][nggallery id=16]