An exhibition of Mithila painting from the Madhubani District of northeastern India will be open to the public 9 a.m.-5 p.m. Monday-Friday Oct. 8-26 at the Pete P. Peters Ellipse Balcony on the third floor of Fresno State's Henry Madden Library.
There is no charge to view "Mithila Painting: The Evolution of an Art Form," whose works are from the collection of the Ethnic Art Foundation.
This exhibition is presented in partnership with the university's Center for Creativity and the Arts as part of its 2012-13 theme "Consumption and Sustainability" and is funded by the Department of Art and Design and Associated Students Inc.
"Mithila had long been famous in India for its rich culture and numerous poets, scholars and theologians – all men," said Joan K. Sharma, an associate professor of art and design at Fresno State. Sharma has made several trips to the Madhubani District, becoming an expert on its art and history, which dates from at least the 14th century.

"For women, it has been a deeply conservative society," Sharma added, "and until painting on paper began 40-plus years ago, most women were confined to their homes and limited to household chores, child rearing, managing family rituals and ritual wall painting."
So it was unknown to the outside world until 1934 when an earthquake devastated the state of Bihar in British-occupied India and exposed interior walls of homes and the paintings.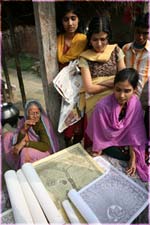 The British colonial officer in Madhubani District, William G. Archer, "was stunned by the beauty of the paintings and similarities to the work of modern Western artists like Klee, Miró, and Picasso," Sharma added, so he made black-and-white photographs that were the earliest-know images of the Mithila work.
Archer later became the South Asia curator at London's Victoria and Albert Museum.
In 1977, American anthropologist Raymond Owens was conducting research in Madhubani and was similarly "stunned" by the Mithila paintings, now on paper, and shared some with fellow anthropologist David Szanton. They helped establish the Ethnic Arts Foundation, dedicated to sustaining the Mithila painting tradition.
The foundation established a free Mithila Art Institute in Madhubani in 2003 to help develop the next generation of Mithila painters, which has resulted in 200 students graduating and is helping re-energize the painting traditions.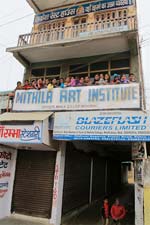 Sharma said the work of the institute and foundation is "directly empowering women both through the sale of paintings and, more broadly, by providing means to express their increasingly critical views of the world around them."
Sharma said the Ethnic Arts Foundation hopes its exhibition at Fresno State will "expand public recognition and appreciation of the painting tradition's beauty, powerful imagery and capacity to depict classical deities, ancient rituals and very contemporary national and global issues and events."
A reception for the Mithila exhibition is scheduled 5-7 p.m., Oct. 12.
For more information, contact Sharma at jksharma@csufresno.edu.