View 104 photos of 104th Commencement
Fresno State's top academic honors were awarded to Yesenia Thompson (master's in Biology) and Joseph M. Bohigian (bachelor's in Music Composition) at Fresno State's 104th Commencement today at the Save Mart Center.
Thompson, of Lindsay, was selected as the University Graduate Medalist, Fresno State's top honor for a graduate student. Thompson's family immigrated to the United States from Mexico and she overcame the challenges of living in a low-income, single-parent home. She earned a 3.91 GPA while researching the role of pesticide exposure in cancer cases among Hispanic farmworkers.
Bohigian, of Clovis, was selected as the President's Medalist, the University's top honor for an undergraduate student. A Smittcamp Family Honors Scholar, Bohigian earned a 4.0 GPA, and his original compositions have been performed in Armenia, Germany, Portugal, Brazil and across the United States. He curated and performed in a concert for the Composer's Voice Concert Series in New York City in 2014.
"The hard work, talent and accomplishments of both Yesenia Thompson and Joseph Bohigian make all of us proud to be part of a university like Fresno State," said University President Joseph I. Castro. "This is a time when we celebrate the tremendous accomplishments of thousands of Fresno State graduates, and it's my privilege to recognize Yesenia and Joseph with our University's most distinguished honors."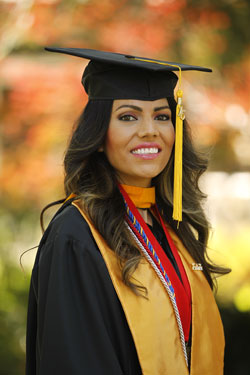 Yesenia Thompson, College of Science and Mathematics
Thompson received the Liliane D. Wells scholarship, Proteus Inc. scholarship, Susan G. Komen Travel Award and the Faculty Sponsored Student Research Award.
Her lab research project in DNA polymorphisms focused on understanding the role of occupational pesticide exposure in causes of breast cancer and prostate cancer in Hispanic farmworkers. The data from her research has been presented at the American Association for Cancer Research International Conference, the National Latino Cancer Summit and the Central California Research Symposium.
She worked with the Susan G. Komen Foundation on local events to fund raise for breast cancer awareness, screening and research for underserved women. She has also organized a field trip for students to learn about medical school and research at UC Davis for the Research Infrastructure in Minority Institutions scholars program. She hopes to pursue a research career in anti-cancer drug discovery and development.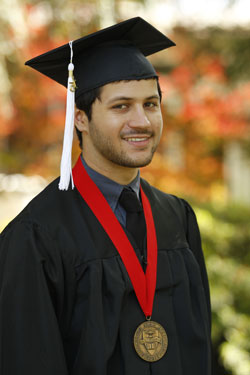 Joseph M. Bohigian, College of Arts and Humanities
Bohigian has been playing music since age 5. He is a member of the College of Arts and Humanities Honors Program, and has received numerous academic and music scholarships. He is president of the Fresno State Composers' Guild and founder and president of the New Music Ensemble at Fresno State.
Bohigian composed a work to commemorate the 100th anniversary of the Armenian Genocide which was performed in Fresno and Los Angeles. After graduation, he plans to pursue graduate studies in music composition at Stony Brook University in New York, where he has been awarded a Graduate Council Fellowship.