(July 15, 2016) — A new poem by Dr. Juan Felipe Herrera, U.S. poet laureate and former Fresno State professor, in response to the recent wave of gun violence that has stirred readers throughout the nation, was featured July 17 on the nationally-syndicated news show "Matter of Fact," which airs in the Central Valley on KSEE 24.
Herrera was recorded in the Fresno State Peace Garden on campus reading "@ the Crossroads — A Sudden American Poem" for the weekend show produced by Hearst TV and hosted by Fernando Espuelas, author, entrepreneur and political commentator.
Herrera – who is serving a rare second term as poet laureate – wrote the poem as a reflection on recent violence in three U.S. cities  and dedicated it to the victims: Alton Sterling and Philando Castile, two African-American men killed by police officers in Baton Rouge, La., and Falcon Heights, Minn., respectively; and five Dallas police officers who were slain by a sniper Thursday.
"@ the Crossroads – A Sudden American Poem" was published July 8 on the website www.poets.org run by the Academy of American Poets, which sends a daily unpublished poem to an audience estimated at 250,000. The poem has garnered notice nationwide.
Herrera wrote: "Before we return to the usual business of our days, let us know their lives intimately. Let us take this moment and, impossible as this may sound, let us find the beauty in their lives in the midst of their sudden and never imagined vanishing."
"The killings left many Americans at a loss for words," Los Angeles Times reporter Michael Schaub wrote. "But U.S. Poet Laureate Juan Felipe Herrera was able to summon some."
The Philadelphia Inquirer wrote, "The poem calls on everyone to consider and 'celebrate the lives of all' those who died, those killed and those who did the killing."
At the Fresno State taping, Herrera said he wanted to remember those lost.
"It was difficult to write this poem because it's painful, but it's also a poem of celebration," said Herrera, who noted he has written several poems recently when acts of violence have dominated the public landscape including the recent shooting deaths of 49 in Orlando.
"I've written something the last few years for those killed brutally, suddenly. Now I wanted to recall the lives of our Dallas police officers and the lives of Philando Castile in Minnesota and Alton Sterling in Baton Rouge. This poem is dedicated to those who died so violently," Herrera said.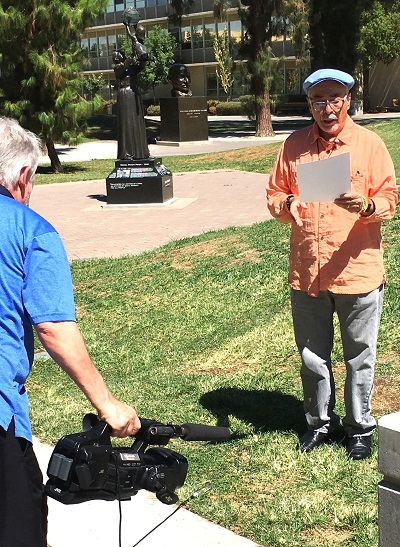 Herrera chose the Fresno State Peace Garden as a symbolic backdrop with the statue of Jane Addams in the background and a bust of Mahatma Gandhi behind that. Other monuments in the Peace Garden honor Rev. Martin Luther King, Jr. and Cesar E. Chavez, founder of the United Farm Workers Union. Both civil rights leaders advocated non-violence in seeking social change.
Adams was the second woman to receive the Nobel Peace Prize (the first American woman) and her life's work was spent promoting understanding, tolerance and mutual respect among people. The bronze statue depicts Addams, a tireless champion of women, immigrants and the poor, holding up a child, who in turn lifts up a glass globe.
Herrera taught in Fresno State's Chicano and Latin America Studies Department from 1990 to 2004, serving as department chair his final two years. At the University's Commencement May 21, he was conferred an honorary Doctor of Letters degree. Later that day he served as keynote speaker at the 40th Chicano/Latino Commencement Celebration.
The show "Matter of Fact" debuted last fall and is broadcast on 80 stations nationwide, including KSEE 24 in Central California. Host Espuelas has interviewed such political figures as President Barack Obama and Sen. John McCain and presidential candidates Bernie Sanders and Jeb Bush.
The segment can be viewed at http://matteroffact.tv/poetic-american-moment/.
For more information about "Matter of Fact," contact Rita Aleman at RAleman@hearst.com. For more information about Herrera, contact Tom Uribes at tomu@csufresno.edu.
(University Communications news assistant Erika Denise Castañon contributed to this report).
Related links:
"@ the Crossroads — A Sudden American Poem" – https://www.poets.org/poetsorg/poem/crossroads-sudden-american-poem