'The Two Gentlemen of Verona' takes University stage
A refreshed version of the William Shakespeare classic, "The Two Gentlemen of Verona," will run Dec. 1 through 9 at the John Wright Theatre at Fresno State. The production received an original and accessible concept by director Brad Myers.
It is the third show of University Theatre's 2017-18 season.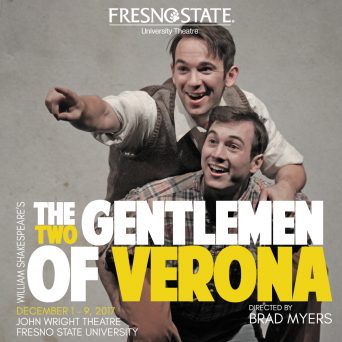 The story centers around best friends, Valentine and Proteus. After finishing school, Valentine is setting off to see the world, traveling to the fashionable court of the Duke of Milan. Proteus wants to stay home because he is in love with his girlfriend, Julia, a fascination which he has kept from his parents for fear they will disapprove. Once Valentine arrives at the Milanese court, he immediately falls in love with Silvia, the Duke's glamorous daughter.
Meanwhile, Proteus' parents feel he needs to become more worldly, and they insist he join Valentine at the duke's court. Both Julia and Proteus are heartbroken, but swear undying fidelity to each other until Proteus can return. However, when Proteus arrives at the Milanese court, he, too, immediately becomes obsessed with the beautiful Silvia. Proteus sets about to undermine the relationship of Valentine and Silvia, seeking to win her for himself. Julia determines she must be with Proteus, and disguises herself as a boy so she can take the dangerous journey to the Court of Milan.
Along the way, the audience meets an array of high school teens, hip party guests, henchmen, outlaws, androgynous artistes, a quirky best friend, clownish servants, protective parents and a gang of unruly outlaws.
"In our production of 'Two Gents,' one of Shakespeare's earliest comedies is filtered through 1950s America," Myers said. "The story of the play, our streamlined version of the text and the updating of the setting all combine to make this production particularly accessible for newcomers to Shakespeare in performance."
The cast includes Hunter Aro, Alyssa Benitez, Cecilia Cantu, Kindle Lynn Cowger, Rodolfo Robles Cruz, Gian Console, Kai DiMino, Thuy Duong, Michael Shane Flores, Lauren Folland, Aaron Gomes, Jose Gomez, Jacob Gonzalez, Reshma Meister, Henry Montelongo, Kenia Morales, Ted Nunes, Justin Case Ray, Daniel Serrano, Abraham Tejada, Steven Weatherbee, Ellie West and Cha Yang.
Tickets are $17 for adults; $15 for Fresno State faculty, staff, alumni and military; and $10 for students. Group rates are available for groups of 20 or more. Box office hours are noon to 4 p.m. on weekdays and one hour before each performance.
Parking is free for shows on Friday through Sunday night. For shows on Tuesday through Thursday night, parking permits are required and can be purchased at dispensers in parking lots on campus.
For more information, contact the box office at 559.278.2216 or universitytheatre@csufresno.edu.