About three years after he competed for Fresno State in the College National Finals Rodeo, alumnus Uhuru Adem was announced as the new coach of the Bulldoggers rodeo club team.
Uhuru Adem (pronounced you-hoo-roo ah-DEM) will be officially introduced to the community at a team demonstration from 2 to 4 p.m. on Saturday, Sept. 29, at the campus rodeo grounds (5306 N. Woodrow Ave.).
The demonstration will be followed by a tailgate and barbecue dinner at the campus beef unit (2620 E. Portals Ave.) from 4 to 6 p.m. before Fresno State's "Ag Fest" football game against Toledo begins at 7:30 p.m. The tailgate will be hosted by the Ag One Foundation and the Department of Animal Sciences and Agricultural Education. Discounted football tickets are available through Thursday, Sept. 27, by contacting 559.278.1688 or aaronjohnson@csufresno.edu.
A $10 donation is requested to attend Saturday's team demonstration.
Adem, a 2015 Fresno State agricultural business graduate, was a College National Finals Rodeo saddle bronc qualifier both seasons that he competed for Fresno State in 2013 and 2014. He previously competed two seasons for Feather River College in Northern California before transferring to Fresno State.
The past two years he has served as an assistant coach at West Hills Community College in Coalinga, where he helped guide the men's team to an 11th-place finish at the national finals in 2018 and a 27th-place finish in 2017.
"We are so happy to welcome Uhuru as our new rodeo coach," said Dr. Sandra Witte, dean of the Jordan College of Agricultural Sciences and Technology at Fresno State. "He is part of a new era in our rodeo program — one that will secure the program for the future."
The West Hills men's team also won the regional championship in 2018 and the reserve regional championship in 2017. He helped organize practices, recruit student-athletes and manage student academic plans while serving as an adjunct instructor.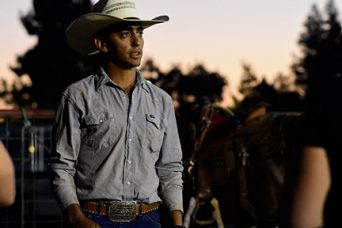 He was also a Professional Rodeo Cowboy Association California Circuit Finals qualifier from 2012 through 2016.
"I'm truly proud to return to my alma mater and a place that has provided me so many fond memories," Adem said. "The Central Valley has great support for the sport, our team and agriculture in general, so the future is bright. We're focused on continuing to build a prestigious program that will attract talented student-athletes from both this area and around the state, and it is already one of the West Coast's largest and most respected programs."
The rodeo demonstration is part of a campaign to raise awareness and help endow the program. A $250,000 gift has already been received from an area family foundation through the Ag One Foundation, and additional money raised through May 2019 will be matched up to $500,000 by a separate pledge. For more information on supporting the Bulldoggers, visit http://bit.ly/FS18-rodeo-support.
The team was coached the previous three seasons by another Fresno State alumnus, Tony Branquinho, who stepped down from his position this past summer to focus full-time on his family ranch near Arroyo Grande.
This past spring, the Fresno State men's and women's rodeo teams each ranked third in the region and were one place shy of advancing to the College National Finals Rodeo finale.
The team returns all five of its 2018 national individual qualifiers — seniors Colton Campbell (Klamath Falls, Oregon) and Bodi Dodds (Sanger) and juniors Jacob Bairos (Modesto), Meagan Kautz (Santa Clarita) and Mitchell Parham (Clovis).
The Fresno State rodeo team dates back to 1946 and officially became a club in 1949 — the same year the first College National Finals Rodeo was held in San Francisco. Today, the National Intercollegiate Rodeo Association sponsors more than 100 college rodeos that include 3,500 student members and 137 universities