Steve Forbes, chairman and editor-in-chief of Forbes Media, will be the next speaker to visit Fresno State for the President's Lecture Series.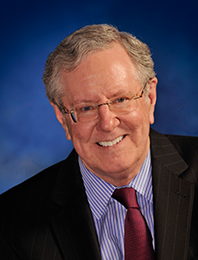 Forbes, who twice campaigned for the Republican nomination for the presidency (in 1996 and 2000), writes opinion pieces for each issue of Forbes under the heading of "Fact and Comment."
His latest book, "Reviving America: How Repealing Obamacare, Replacing the Tax Code and Reforming The Fed will Restore Hope and Prosperity," co-authored with Elizabeth Ames, came out in December.
"An Evening of Insights with Steve Forbes" will take place at 6 p.m. Monday, March 25, at the Save Mart Center. The lecture will be followed by a question-and-answer session from 7 to 7:30 p.m., facilitated by Dr. Robert M. Harper, interim provost and vice president for Academic Affairs.
The Public Television documentary "In Money We Trust?" — currently being aired around the country — was based on the book "Money: How the Destruction of the Dollar Threatens the Global Economy — and What We Can Do About it," which Forbes co-authored with Ames.
The President's Lecture Series features prominent national guests invited to campus by Fresno State President Joseph I. Castro. The series began in 2016.
"I am very much looking forward to another thoughtful presentation for our community," Castro said. "Steve Forbes brings a unique perspective, with his extensive background from both the media industry and politics."
Other national figures who have participated are New York Times columnist David Brooks (2016), presidential historian Doris Kearns Goodwin (2016), New York Times foreign affairs columnist Thomas L. Friedman (2017) and presidential historian Michael Beschloss (2018). Washington Post journalist Robert Costa was a featured guest in 2017 and 2018.
The appearance is co-sponsored by The Fresno Bee, Valley PBS, KSEE24 and KMJ News Talk Radio.
This free event is open to the public. Doors open at 5 p.m. Parking at the Save Mart Center will be free.
For more information or for disability accommodations, call 559.278.2324.