Two Fresno State students received first- and second-place awards and nine others presented their research in the 26th annual California State University Student Research Competition in Long Beach.
The competition brings undergraduate and graduate students together from all 23 CSU campuses to present research on subjects ranging from behavioral and social sciences to biological and agricultural sciences.
Michael Farner, a graduating senior geology major, received first place in the Physical and Mathematical Sciences Undergraduate category for his presentation "Comparison of Geologically-Averaged Palemagnetic and 'Instantaneous' GPS Rotation Data in the West-Central Walker Lane."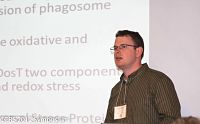 Andrew Norton, graduating with his professional science master's degree in biotechnology this year, placed in Biological and Agricultural Sciences Graduate Division competition. His presentation was "A Proteomic Analysis of a Mycobacterium smegmatis Universal Stress Protein Mutant."
Nine other Fresno State students presented:
Health, Nutrition, and Clinical Sciences Undergraduate Division:
Martha Diaz, "Folk Healing and Identity Politics in Fresno and Guadalajara"
Bradley Kroeker and Lana McGinnis, "A Fruit Fly Model of Parkinson's Disease and Manganese Toxicity"
Behavioral and Social Sciences Graduate Division:
Victoria Kubal, "Changes in Counselor Trainee General and Counseling Domain Self-Efficacy"
Caitlin Lynch, "Law Enforcement Officers' Theoretical Commitments and Their Effects on Attitudes Toward Punitiveness"
Biological and Agricultural Sciences Graduate Division:
Bardia Dehghanmanshadi, "Yield, Growth, Fruit Quality and Plant Nutrition of Tomatoes Subjected to Elevated Carbon Dioxide"
Physics and Mathematical Sciences Undergraduate Division:
Jennifer Harmon, "Determination of Molecular Self-Diffusion Coefficients Using Pulsed-Field-Gradient NMR: An Experiment for Undergraduate Physical Chemistry Laboratory"
Health, Nutrition, and Clinical Sciences Graduate Division:
Hannah Williams, "Predicting Fall Risk Using the 30 Foot Walk Test in Lower-Functioning Community Dwelling Older Adults"
Humanities and Letters Graduate Division:
Lena Zaghmouri, "Developing Community: Developing Community in Laila Halaby's 'West of the Jordan'"
For more information, visit www.csufresno.edu/grants/programs/students/student.shtml.
(Copy by University Communications student news assistant Reganie Smith-Love.)