The soft launch of Fresno State's popular sweet corn a few weeks ago has proven fruitful for the Rue and Gwen Gibson Farm Market where a full-scale 4th of July promotion this week is expected to draw hungry sweet corn fans from across the San Joaquin Valley.
The store announced its Fresno State Sweet Corn, Wine and Meats Independence Day Special now under way through July and the opening of its fresh meat counter Thursday.
Summer hours for the Gibson Farm Market are: 7 a.m.-7 p.m. Monday-Friday, 7 a.m.-6 p.m. Saturday and 9 a.m.-4 p.m. Sunday.
On July 4, the market will open 7 a.m. – 2 p.m. with a Fresno State Ice Cream tasting featuring two flavors, Cake Batter Confetti and Apple Pie. The monthly ice cream tasting set for July 10 will feature those flavors also.
The store is also gearing up for its 6th Annual Fresno State Farm Festival 9 a.m.-1 p.m.  Saturday, July 14, when students and faculty will showcase products grown or produced by students within the Jordan College of Agricultural Sciences and Technology.
Since the corn soft launch June 9 – employed this year as a means to manage crowd flow while the store was recovering from a car crash in March – sweet corn sales have been steady at the Gibson Farm Market, selling more than 76,000 ears in the first week and about 60,000 ears the second week, reports Mike Mosinski, interim farm manager of the University Agricultural Laboratory.
The car accident, which occurred when the store was closed, caused $35,000 damages. Ongoing repairs included the replacement of cash registers and rebuilding a destroyed wall that made the usual full corn launch difficult this year.
Now the students are ready, and it's all about the nation's biggest holiday and celebrations with barbecues featuring the delicious sweet corn, which costs $1 for 3 ears, and award-winning wines and meats.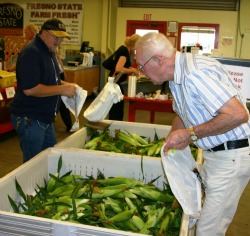 The fresh meat counter, staffed by students of the Fresno State Meats Lab, will be open weekends this summer beginning June 28-30 with a variety of sausage starting at $5.49 per pound and a 25 percent discount on ground beef.  The counter is open 10 a.m. – 4 p.m. depending on product availability each day.
Grass-fed beef raised on the San Joaquin Experimental Range by Fresno State students has also arrived at the fresh meat counter. The cattle have been raised only on grass and have never received concentrates or grains, which represents a more natural form of production, explained Dr. Randy Perry, an animal science professor and beef unit adviser.
Specials on wine include $10 for two bottles of Fresno State Tailgate Red or White Zinfandel and $6.95 for a bottle of student-produced Muscat Canelli. The Saviez Syrah and Fasi Syrah will also be sold with a 20 percent discount. Students, alumni, staff and faculty also receive a 10 percent discount on wine, olive oil and apparel with a valid ID card.
Squash, tomatoes, peaches, apricots, plums, almonds, pistachios, raisins, olive oil, jams are among the items available.
For more information, call 559.278.4511 or visit the market's Facebook page.
(University Communications student news assistant Nicole Maul contributed to this copy).
Related link: