The California Pistachio Research Board pledged $1.5 million to establish an endowed faculty position with Fresno State's Jordan College of Agricultural Sciences and Technology.
The endowed Professorship in Pistachio Physiology and Pomology assures dedicated faculty expertise to help solve industry challenges, while training the next generation of agricultural professionals. The position will focus on applied research in pistachio physiology and teaching courses in pomology, the science of cultivating fruit produced by flowering plants.
"The generous support of the pistachio industry will ensure the development of innovative nut- and fruit tree-growing practices and technologies for years to come," said Fresno State President John D. Welty.
When hired, the newly selected faculty member will work closely with the pistachio board to prioritize research, and as a teacher and adviser connecting students to the industry.
Board chair and pistachio grower Tom Coleman said the endowment comes at a pivotal time. "During the past 20 years the California pistachio industry experienced rapid growth and we have relied on researchers from across the state. Unfortunately many of these academic researchers recently retired or will retire soon.
"Fresno State is the ideal location with respect to our growers. It is one of the top agricultural universities in the country and is deeply committed to supporting the agricultural community," Coleman said.
Richard Matoian, executive director of American Pistachio Growers, echoed the sentiment, noting the Jordan College's reputation for producing well-trained students and conducting cutting-edge agricultural research.
"The pistachio industry values the opportunity to work with professors at Fresno State to conduct needed pistachio production research," said Matoian. "The opportunity to collaborate with researchers at a university will be beneficial for all."
The California Pistachio Research Board is composed of pistachio producers dedicated to researching pistachio propagation, production, harvesting, handling and preparation for market. The board also provides educational opportunities and material for pistachio growers.
Andrew Anzaldo, director of Grower Relations at Paramount Farms said, "This endowment demonstrates unanimous industry support for a long-term research solution to combat the dwindling state support of higher education."
The Jordan College offers students a comprehensive, hands-on educational experience. Students train at the 1,000 acre farm laboratory, of which 25 acres are dedicated to pistachios.
For more information, contact Kathleen R. Schock, director of media and development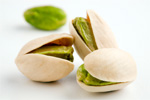 communications, at 559.278.2756 or kschock@csufresno.edu.
To discuss potential partnership opportunities to fund academic positions or programs, contact Alcidia Freitas Gomes at alcidia@csufresno.edu or 559-278.4266.
Related Links: