Mariachi Fresno State will host a concert, "Noche de Mariachi," at 7 p.m. Sunday, April 28, in the Concert Hall (Maple and Keats Ave.) with the Roosevelt High School Mariachi. The event is free and open to the public.
The group is from a mariachi class taught by Dr. Donald Henriques, associate professor of music and director of the Mariachi Fresno State group.
The mariachi class was first taught at Fresno State in 1997 by Dr. Manuel Peña, Professor Emeritus of Music, and a renowned anthropologist of music and folklore and considered an authority on Mexican-American music.
The class returned in 2007 under Henriques and is emerging as the newest performance ensemble in the Department of Music.
Henriques, who joined the Fresno State faculty in 2006, earned a bachelor's degree in music performance from California State University, East Bay; a master's in music composition from Indiana University, Bloomington; and a doctorate in ethnomusicology from the University of Texas at Austin. His research focuses on mariachi and relationships with the transnational media industries (radio, sound recordings and film) from the late 1920s through 1950s.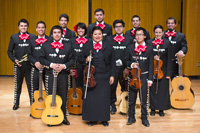 The Roosevelt High School Mariachi is well known for its outstanding student ensemble, which was started by Fresno State alumnus Steve Alcala in 1989 and is currently under the direction of alumna Pamela Galicia. Five members of the Fresno State Mariachi are Roosevelt High School graduates.
Two other Fresno State alumni who are now professional mariacheros will participate in Sunday's program: vocalist Monique Martínez and Raoul Hernández.
Martinez is from Visalia and has her own troupe, Mariachi Sincero.  She has also been a member of Mariachi Estrellas de Guadalajara de Rubén Ramos.
Hernández is a former Fresno State Mariachi member, a Roosevelt Mariachi graduate and currently leading Mariachi Los Charros del Valle.  He also has performed with Metalachi, a mariachi metal group out of Los Angeles.
The performance will include popular mariachi favorites made famous by internationally-renowned Mexican groups like Mariachi Vargas de Tecalitlán and legendary Mexican singers such as Jorge Negrete, Jose Alfredo Jiménez and Javier Solís.
For more information, contact Dr. Henriques at 559.278.2620.
Related Links:
(Copy by University Communications student news assistant Alejandra Garcia.)