Fresno State's International Student Services and Programs (ISSP) will celebrate the 30th anniversary of its International Culture Night at 7 p.m. Sunday, Nov. 17, in the Satellite Student Union.
More than 600 international students are enrolled including 300 new international students this fall — a record for the university.
For three decades, the Association for the Promotion of International Culture (APIC), a student organization, has planned and organized the free, public event to promote international culture to the Fresno State community and public.
"We have a unique and diverse international presence here in the Central Valley," said Paul Yunouye, APIC staff adviser. "Our student planning committee has done a wonderful job in selecting outstanding performances to culminate a variety of entertainment."
The event, part of International Education Week now under way, features 11 musical and dance performances by 10 student clubs representing cultures from multiple countries and a fashion show exhibiting authentic international attire.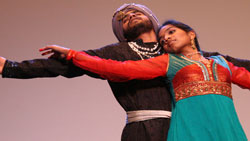 Emma Shaljyan, APIC president, says her goal for this year's milestone event is to show people the diverse and wonderful community they live in.
"We want people to know that, to an international student, Fresno is not just another city. It is one of the most sought after educational locations in the United States," she said.
Doors open at 6 p.m. Parking is free on weekends. Nearest lot is Lot P (Barstow and Maple avenues).
For more information, contact Yunouye at 559.278.2782.
Copy by Ashlie Day University Communications news intern.
Related links: