Construction of Fresno's newest retail center was formally launched today with groundbreaking for "The Square at Campus Pointe." The first 12 business tenants were announced for the project on Chestnut north of Shaw, near Fresno State's Save Mart Center and Highway 168.
The Square is the next phase of the 45-acre mixed-use development Campus Pointe project, a public/private partnership between the California State University, Fresno Association, Inc. (a recognized California State University auxiliary organization), which manages the Fresno State- owned parcel, and Kashian Enterprises, the master developer of the project.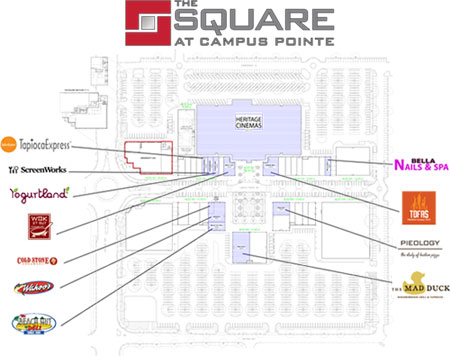 The inaugural tenants revealed today are Heritage Theatre, Beach Hut Deli, Bella Nails, Cold Stone Creamery, Tofas Mediterranean Grill, Mad Duck, Pieology, Screen Works, Tapioca Express, Wahoo's Fish Tacos, Wok It Out and Yogurtland.
Fresno State President Joseph I. Castro turned the first ceremonial shovel of earth in front of the future home of Heritage Theatre, a 2,700-seat cinema that will anchor approximately 250,000 square feet of retail space. This initial retail phase will include approximately 50,000 square feet of restaurant and food uses and is scheduled for completion by spring 2015.
Castro was joined by Tracy Kashian, vice president for marketing and public relations of Kashian Enterprises; Moctesuma Esparza and Frank Haffar of Heritage Theatre; and Moses Menchaca, president of Associated Students, Inc.
Also turning the first dirt with them were Paul Caprioglio and Oliver Baines, Fresno City Concilmembers; Heather Elkins, chief of staff to Supervisor Andreas Borgeas; Paul Dictos, Fresno County Tax Assessor; Cynthia Matson, vice president of Administrative Services – Fresno State; and Fresno State's mascot, Timeout.
Esparza arranged for Joey Garfield, a spiritual leader of the Tule River Tribal Council, to bless the ground prior to the ceremony and recite a prayer. "We do that for all our theater construction sites," Esparza said.
Campus Pointe's resident phase already has more than 1,000 tenants: Palmilla, the workforce housing project opened for occupancy in July 2009; and Palazzo, the student-friendly housing project opened in June 2010.
The project is the largest mixed use public-private partnership in the CSU with $250 million expected to be invested by the private sector once the project is fully built out, the president said.
"This is a wonderful addition to our campus and an excellent example of how public-private partnerships can benefit the entire community," Castro said. "Campus Pointe will have a positive economic impact for Fresno and Clovis and will be a catalyst for additional investment and retail growth in the immediate surrounding area."
He said the annual ground lease revenue generated by the project will support retirement of the Save Mart Center bonds as well as the University Agriculture Laboratory for the loss of ag land.
Future phases of the development plan for Campus Pointe include office buildings, a hotel and a senior housing project, said Deborah Adishian-Astone, Fresno State's associate vice president for Auxiliary Operations.
"When fully built-out, Campus Pointe will have approximately one million square feet of space," she said.
The project will provide educational benefits to Fresno State such as jobs for students and internship opportunities for those studying business, hospitality, tourism, marketing and gerontology, Adishian-Astone added.
A joint use agreement will allow the university to use the theatre for Fresno State classes if growth space is needed in the future.
The Campus Pointe project funded its own utility infrastructure and street improvements, totaling close to $12 million. Construction progress updates will be posted online at www.facebook.com/TheSquareAtCampusPointe.
For more information, contact Adishian-Astone at 559.278.0800.
Related links:
Photos by Cary Edmondson/ University Communications