Fresno State's 2014 Vintage Days celebration will mark its 40th anniversary April 25-27 and will include an attempt to break the Guinness World Record for the largest map of shoes as well as throwback activities from the event's early years and a reunion of former event planners.
New hours are in effect this year: 10 a.m.-6 p.m. Friday and 10 a.m.-5 p.m. Saturday and Sunday.
More than 50,000 people are expected to converge on campus over the three days. Festivities begin Friday with the Vintage Days pancake breakfast for employees and students from 7-10 a.m.
Vintage Days gets a head start at 5:30 p.m. Thursday, April 24 with Vino Italiano! at the Fresno State Winery (2360 E. Barstow Ave.) between Cedar and Maple avenues. The annual wine tasting presented by the Fresno State viticulture and enology program showcases student-crafted, award-winning Italian varietals.
The annual pancake breakfast, hosted by the Staff Assembly Executive Committee, will be held on the Maple Mall, south of the Satellite Student Union by the Speech Arts building with celebrity chefs including University President Joseph I. Castro and wife Mary making their first appearance since joining Fresno State in August.
The president also will also deliver opening remarks for the Vintage Days public kick off at 8:40 a.m.
The free, public three-day celebration will feature food and game booths, concerts, crafts, a kids zone, special performances and a beer and wine garden.
Fresno State viticulture and enology students will offer tastings of signature Fresno State wine from noon-6 p.m. on Friday and noon-5 p.m. on Saturday and Sunday at the beer and wine garden.
The Boomtown Carnival features student clubs and organization booths selling food and operating games to celebrate the diversity of Fresno State and raise funds for their organizations.
More than 150 vendors from throughout the western United States will be present for the Crafts Faire, featuring hand-crafted items and gourmet foods.
A free screening of the movie, "Frozen," will be included in the kick-off festivities at 8 p.m. Friday on the grass just south of the Satellite Student Union. Bounce houses, concerts and contests will start at 6 p.m. leading up to the screening.
This year, Vintage Days is partnering with students in the Fresno State Marketing 188 class for a shoe drive called, "Sole Train," in an attempt to break the world record for the longest chain of shoes from 10 a.m.-5 p.m. Saturday, April 26 on the Band Practice Field on San Ramon Avenue east of Maple Avenue (just east of the Science II building).
The students' goal is to collect more than 12,000 gently used or new shoes to donate to local community-based organizations within Fresno County. The public is invited to participate.
The 1970s progressive rock n' roll band, "The Wild Blue ," will make a return to the Vintage Days stage at 4 p.m. Saturday for the KSEE24 Concert series. The performed at the inaugural Vintage Days 40 years ago.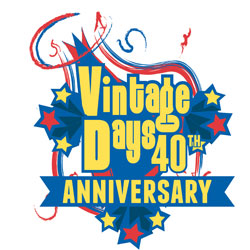 At 8 p.m. on Saturday, April 26, the Fresno State Department of Music will host Vadim Gluzman performing Beethoven's Concerto in the Music Concert Hall.
A new feature, the Pepsi Wild Cherry Vintage, will revisit past traditions throughout the weekend. It is a tribute to the Vintathlon, an event from earlier Vintage Days in which Fresno State students pair up in teams to compete against each other in a variety of events. First-place winners will receive VIP tickets to the Blake Shelton concert Sept. 11 at the Save Mart Center as well as a $500 Wild Cherry Pepsi Grant.
To honor four decades of the Fresno State Vintage Days tradition, a reunion is planned for anyone who served on the Vintage Days Planning Committee. It will start at 6 p.m. on Saturday, April 26 in the beer and wine garden. RSVP with the Student Involvement office at 559.278.2741.
Festivities conclude at 4:30 p.m. Sunday with an awards ceremony, announcing the winners of the Pepsi Wild Cherry Vintage Challenge and the Boomtown Carnival competitions.
Vintage Days is organized by a student-led committee within the Student Involvement Center in the Division of Student Affairs.
Admission and parking are free. No pets allowed.
For more information, contact Student Involvement at 559.278.2741 or visit www.fresnostate.edu/vintagedays.
(University Communications news assistants Jodi Raley contributed to this report.)
Related Links: