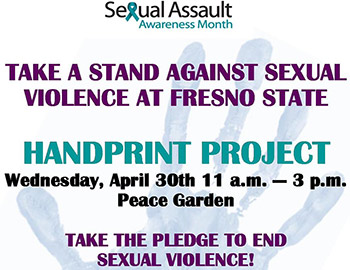 Two Fresno State events on Wednesday, April 30 in observance of Sexual Assault Awareness Month underscore a new White House report issued yesterday calling on colleges nationwide to crack down on sexual assaults on campuses.
The Handprint project from 11 a.m.-3 p.m. in the Peace Garden and "The Vagina Monologues" at 7 p.m. in the North Gym, Room 118, reflect the challenge posed by the "Task Force to Protect Students From Sexual Assault" that was released late Wednesday, said  Jessica Adams, interim coordinator of the Women's Resource Center at Fresno State.
The 20-page report is part of an effort by a White House task force to support survivors of sexual assault on campuses that includes launching the website NotAlone.gov and challenging colleges to survey their students next year about sexual misconduct and other safety.
Other recommendations are that colleges should promote "bystander intervention" and identify trained victim advocates who can provide emergency and ongoing support.
In a statement released with the report, Vice President Joe Biden noted "staggering numbers" of one in five women nationally being sexually assaulted during their time in college.
At the 22,000 student Fresno State, seven "forcible sex offenses" were reported in 2011-12 on campus and four were reported in student housing areas, according to Clery Act information provided on the university's police department website.
"Colleges and universities need to face the facts about sexual assault," Biden said. "No more turning a blind eye or pretending it doesn't exist. We need to give victims the support they need — like a confidential place to go — and we need to bring the perpetrators to justice."
Adams said the Fresno State Women's Resource Center is part of a campus-wide effort to raise awareness and intervention.
For the Handprint event, which is free and open to the public, participants will personally pledge to never commit an act of sexual assault and to safely intervene if ever witnessing such an event.
Several Fresno State clubs and organizations will participate by providing "murals" that participants can place their handprint on to symbolize their pledge. Those making the pledge will be presented a pledge card and information regarding sexual assault bystander intervention.
Wednesday night, the public is invited to join in a worldwide campaign to stop violence against women and children with the performance of Eve Ensler's award-winning "Vagina Monologues," which debuted at the off-Broadway Westside Theatre in New York in 1996.
It involves a reading by various women addressing the feminine experience and touching on sex, love, rape, menstruation, female genital mutilation, masturbation, birth, orgasm and common names for the vagina.
"A recurring theme throughout the piece is the vagina as a tool of female empowerment and the ultimate embodiment of individuality," said Dorothy Kolen, coordinator and co-director of Fresno State's "Vagina Monologues."
The presentation will feature more than 250 stories by women of all ages, from all walks of life, including some who are survivors of sexual assault.
"Brought together in a perfect harmony of humor and grace, the 'Vagina Monologues' aims for women to embrace their sexuality and be comfortable with who they are," Kolen said.
"The Vagina Monologues," stems from the global activist movement of "V-Day" which advocates an end to domestic and sexual violence against women and girls through increased awareness, fundraising and the revitalization of anti-violence groups.
Tickets for the play are $10 for general admission and $5 for students, staff and faculty with proceeds going to the benefactors the Marjaree Mason Center and Fresno State's Center for Women and Culture.
For more information, contact Kolen or Adams at 559.278.4435
Related Links:
"Task Force to Protect Students From Sexual Assault"