Each of Fresno State's eight schools and colleges, along with the Division of Student Affairs, have selected an outstanding graduate student to honor as its Dean's Graduate Medalist for the class of 2014.
Each dean selects an undergraduate medalist and a graduate medalist based on academic excellence, community involvement and other achievements. One medalist will be announced as the University Graduate Medal winner at the 103rd Commencement at 9:30 a.m. Saturday, May 17 at the Save Mart Center.
2014 Deans' Graduate Medalists:
Minh (James) Nguyen Le, Jordan College of Agricultural Sciences and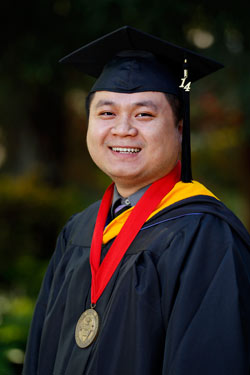 Technology,
of Fresno, completed an M.S. in Industrial Technology with a 4.00 GPA. Lauded for his intelligence, work ethic and diligence, he has been a volunteer for three years for the Future Farmers of America (FFA) Field Days Technology Competition. In the area of community service, he has devoted many hours to the Cecil C. Hinton Multicultural Community Center, where he became network administrator. He directed a team in the installation and maintenance of a computer network and improved the system's security. As both president and vice president of Epsilon Pi Tau, he revitalized the honors student organization in the Department of Industrial Technology. James also served as vice president of Advance Technology Enterprise, a student-run campus organization. He plans to pursue a career in the technology sector and possibly start his own business.
Bradley A. Rutledge, College of Arts and Humanities,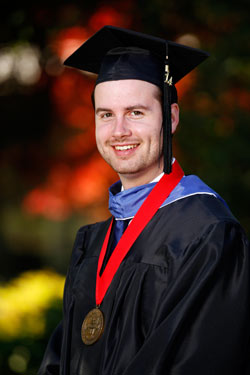 of Chowchilla, completed an M.A. in Music Education with a 4.0 GPA. As an undergraduate, he was a Smittcamp Scholar who graduated summa cum laude in May 2012 and received the prestigious President's Graduate Scholars Fellowship to support his graduate studies. He was awarded the horn position in the President's Quintet, which represents the best that the Music Department offers. He is a graduate assistant for the marching band program and highly respected by the students in the band and in his classes. He is also a distinguished member of the wind orchestra and former member of the symphony orchestra. His passion for music has led him to share with others. He is active in several on- and off-campus service organizations as a volunteer, providing music education opportunities to underprivileged children. He is a member of Phi Mu Alpha Sinfonia, a fraternity for men in music professions, and served as president in 2011-2012.
Kurtis Willey, Craig School of Business,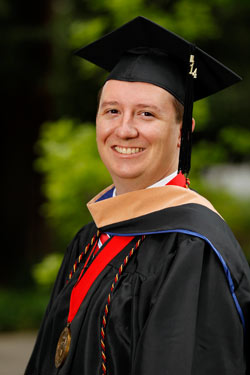 of Fresno, completed the Executive M.B.A. with a 4.0 GPA. Described as having a tenacious work ethic and a strong desire to learn, he was a class leader in his cohort within the program. His project was a group of restaurant acquisitions and conversions, with the goal of acquiring bakeries to be transformed into Panera Bread restaurants. He has served in leadership roles for the Republican Party, organizing fundraisers and working with local candidates and visiting dignitaries. He was an elected representative in District 5 and was later unanimously elected chairman of the Fresno County Republican Party. While claiming a community leadership role, he has balanced a full-time job with academic success. As an employee at Agri-Valley Irrigation, he was promoted to supervise the company's job costing department. His goal is to run for public office. He earned a bachelor's from Fresno State in Business Administration with an accounting option in 2009.
Clifford Frazier III, Kremen School of Education and Human Development,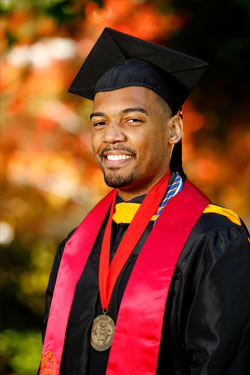 of Fresno, completed an M.S. in Counseling with a 3.81 GPA. He is recognized by numerous honor societies, including Golden Key and Chi Sigma Iota, in which he served as chair of the public relations committee during the 2012-2013 school year. He also served on the Kremen School Equity Committee and is a member of the National Coalition Building Institute, which promotes respect, appreciation and equal treatment of all people. He is also affiliated with the National Association for the Advancement of Colored People and the American Counseling Association. Since June 2012, Frazier has served as a resident director for University Courtyard. In February 2014, he received the Rosa Parks Graduate Unsung Hero Award for his continued commitment to the success of students. In April 2014, Frazier received the Edge Scholar Award for serving as an exceptional student, university citizen and showing exemplary work ethic. Also in April 2014 he received the Outstanding Counseling Student award presented by Chi Sigma Phi Chapter of Chi Sigma Iota.  He plans to pursue a Ph.D. program in Higher Education and Student Affairs. His ultimate goal is to become a dean of students, vice president of Student Affairs and/or president of a university.
Anthony Cemo, Lyles College of Engineering,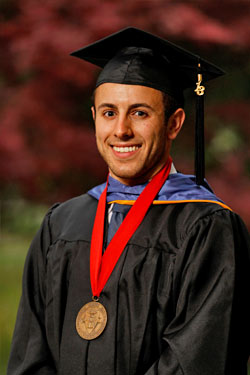 of Porterville, earned an M.S. in Engineering (Civil Engineering option) with a 4.0 GPA. In 2012, he earned his B.S. in Civil Engineering, graduating summa cum laude from Fresno State. He worked as an engineering assistant with the Central Valley Regional Water Control Board in 2011 and the Department of Water Resources in 2012. As a graduate student, he was active in professional society student chapters and also served as lab instructor and teaching assistant for the Lyles College of Engineering. He currently is a part-time instructor teaching fluid mechanics. His research on "Particle Mobilization of Porous Media Under Various Permeating Fluids" has been accepted for presentation at the 2014 ASCE Geocongress Convention in Atlanta. His volunteer service includes work for the San Joaquin River Parkway and Conservancy Trust, Fresno PARCS and Valley Animal Shelter. He is a lead project coordinator at Blair, Church and Flynn Consulting Engineers, a Clovis engineering firm working on the California High Speed Train City of Fresno Utility relocations project. He earned the rank of Eagle Scout with the Boy Scouts of America. He is an assistant engineer at local consulting firm Blair, Church and Flynn Engineers in Clovis, CA.
Karina Harris, College of Health and Human Services,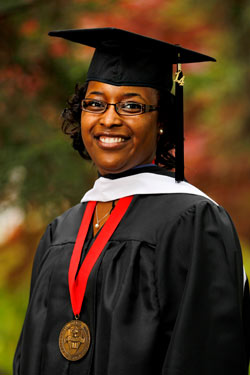 of Oakland, completed an M.A. in Communicative Disorders, Speech-Language Pathology option with a 4.0 GPA. She is a member of the Golden Key International Honor Society and the Tokalon Women's Honor Society. She received the Woman of Distinction Award from the Sigma Lambda Gamma sorority in 2011 and the Jumpstart SPARK award in 2012. She also received recognition three years in a row from the Evening of Elegance Scholarship. Selected from hundreds of Jumpstart tutors throughout the country, she was the recipient of the 2009 America Spirit of Service Award. Her experience as a student clinician at Hoover High School, Ahwahnee Middle School, Community Regional Medical Center and the Fresno State Speech Language and Hearing Clinic provided a firm foundation from which to launch her professional career. She is dedicated to the field of speech-language pathology, as evidenced by her desire to work with the deaf and hard of hearing population before pursuing a doctoral degree.
Nicole Jones, College of Science and Mathematics,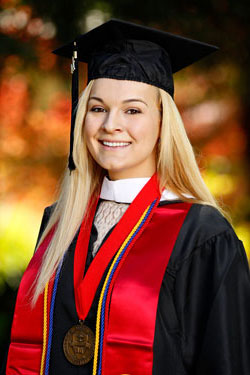 of Clovis, completed an M.A. in Psychology, General/Experimental option, with a 4.0 GPA. Her thesis research, which is titled, "The Effect of Mexican Orientation and Anglo Orientation on Perception of Stressors," has culminated a first-author paper submitted to the Hispanic Journal of Behavioral Sciences. She has also presented her work at two national conferences and at Fresno State's Central California Graduate Research and Creative Activities Symposium. During her graduate work, she was the recipient of several fellowships and scholarships, including a College of Science and Mathematics Graduate Student Scholarship and the Roger L. Bailey Memorial Scholarship. She also received a National Institutes of Health Research Infrastructure for Minority Institutions graduate award and the Robert and Norma Craig Graduate Fellowship. An active teaching assistant and instructor in the Department of Psychology, she earned Psi Chi Teaching Assistant of the Year honors in 2013. She is a volunteer in the community and has served as ombudsman for the Fresno-Madera Ombudsman Program since April 2012. In this role, she visits residential care facilities and advocates for residents to monitor and prevent abuse. She plans to pursue a Ph.D. in Social Psychology.
Dalia Haitayan, College of Social Sciences,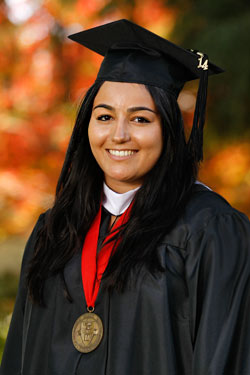 of Clovis, completed an M.A. in History with a 4.0 GPA. She earned President's List and Dean's List distinctions during her undergraduate studies and was inducted into the Phi Alpha Theta History Honor Society in spring 2012. She is the recipient of the Robert and Norma Craig Graduate Fellowship, Bertha and John Garabedian Scholarship and the Yervant, Rose and Hovannes Levonian Educational Grant. In her thesis, she explores the rise of evangelical conservatism in Fresno and how Protestant churches re-evaluated their role in the midst of urbanization during the 1960s and 1970s. She has presented four research papers at regional and national conferences. She has also distinguished herself as a research and teaching assistant. Outside the Department of History, she has served as a writing tutor in the Learning Center, an intern in Henry Madden Library Special Collections and a volunteer archivist at the Fresno Historical Society. She is currently helping to organize the 2015 Southern Association for Women Historians Conference. Described as a well-rounded and accomplished graduate student, she has been accepted to a Ph.D. program in history at Boston University.
Jose Arrezola, Division of Student Affairs,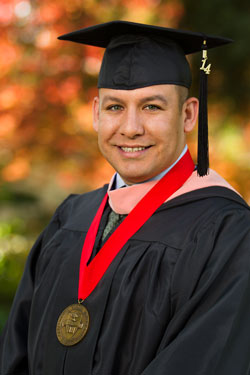 of Parlier, CA completed a M.P.H., Health Promotion option, with a 3.4 GPA. Since 2012, he has been working as a health education specialist for the Madera County Public Health Department. As a student at Fresno State, he volunteered for projects targeting at-risk, low-income and academically challenged youth. He volunteered in College Assistance Migrant Program (CAMP) and University Migrant Services activities. He also was active with the Gamma Zeta Alpha fraternity. He completed a one-year paid internship with the Health Science Department during which he conducted research for cervical cancer. After completing bachelor's degrees in Health Science and Spanish Literature at Fresno State, he worked as a health educator for United Health Centers of the San Joaquin Valley, administrative lead for HealthCare California, academic counselor for CAMP and health education specialist for Community Regional Medical Center. He was an awardee of the Sally Casanova Pre-Doctoral Program, and in summer 2010 had the opportunity to travel abroad and served as a student assistant at the Andres Bello University in Santiago, Chile. In 2011 and 2012, he attended the National Public Health Association conference, where he presented health research findings on issues affecting Fresno State students. His goal is to earn a Ph.D. in Public Health and eventually become a university educator.
Related Links: