Fresno State President Joseph I. Castro answered the ALS Ice Bucket Challenge with a football spin in anticipation of this week's season opener. In a video released by Fresno State, Castro challenged the university
presidents of each school on Fresno State's schedule, including University of Nebraska President James Linder.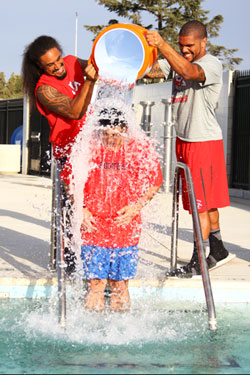 The Bulldogs host Nebraska at 7:30 p.m. Sept. 13 at Bulldog Stadium.
"Here at Fresno State, we're used to Gatorade showers, but we're also serious about conserving water, so we'll just save the Gatorade shower for next time," Castro said in the video.
With respect to the current drought in California, Castro made sure to conserve water by doing the challenge at the university's swimming pool. Fresno State senior linebackers Karl Mickelsen and Donavon Lewis dumped water on Castro while he joked about saving the Gatorade shower for later. Fresno State has won back to back Mountain West Conference championships and is favored to win the West division again this season.
School mascot Timeout was also on hand. The video shows Castro checking his Twitter account (@JosephICastro) after launching the new DISCOVERe student tablet program and seeing various challenges from Fresno State's football team, students and university vice presidents.
Castro answered the challenge to help raise awareness for ALS, and he donated to the charity. Fresno State opens its season Saturday at No. 15 USC and also plays Utah, Southern Utah, New Mexico, San Diego State, UNLV, Boise State, Wyoming, San Jose State, Nevada, and Hawaii this season.