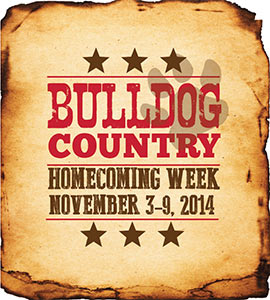 Fresno State celebrates its "Bulldog Country" Homecoming Week Nov. 3-9 with daily on-campus events – including a new take on the traditional homecoming court — all leading up to a pep rally Friday and the football team's game against San Jose State Saturday at Bulldog Stadium.
The celebration kicks off from 11 a.m. – 1 p.m. today with "Homecoming Roundup" in Memorial Court (south of the Kennel Bookstore) were students will eat, play games, win prizes and meet the Fresno State equestrian team and their horses.
Campus decorating contests will be held all week long with offices, residence hall doors and student organization booths decked out in the "Bulldog Country" theme.
The "Bulldog Spirit Song" will be played on the USU Clock Tower daily at noon.
This year's homecoming committee announced a new tradition based off the traditional homecoming court competition called Homecoming Court of Distinction.
Whereas the traditional homecoming court consisted of a king and queen and attendants, Fresno State's modern day court will consist of non-human representations or symbols of university's heritage, tradition(s), points of pride or excellence. Members of the campus community nominated a "candidate" for the student body to choose in a vote conducted by Student Involvement.
Campaigning is now under way with the winner announced at the Fresno State Homecoming Pep rally on Friday, Nov. 7.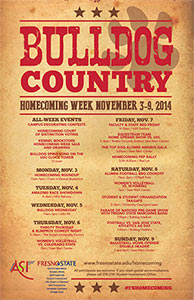 That free, public pep rally will be at 5:30 p.m. in the Red Lot of Bulldog Stadium (Cedar and Barstow) featuring DJ Kay Rich, the Fresno State Marching Band and a special performance by Whiskey Row.
The pep rally will also feature appearances by student athletes and coaches from Fresno State football, basketball, volleyball and equestrian teams and members of the Alumni Football Team.
Another highlight of homecoming week is the Top Dog Gala Awards at the Save Mart Center, also at 5:30 p.m. Friday, where William S. Smittcamp will be honored as the 2014 Top Dog along with 13 other outstanding alumni.
On Saturday, a public Alumni Football barbecue cook-off will take place from 11 a.m. – 2 p.m. at O'Neill Park, benefiting KYJO's Foster Family Agency. Tasting pass is $20 in advance and $25 at the door.
From 3-5 p.m., University Courtyard will host the annual Student and Student Organization Tailgate on the lawn near its Atrium lobby. The Fresno State Bulldog Marching Band will escort them to the stadium at 4:45 p.m.
The week formally ends with the Bulldogs basketball home opener, a double-headerat the Save Mart Center (the women's team at 2 p.m. and men's at 4 p.m.) on Nov. 9.
For more information, call 559.278.2741. See full list of events.
(University Communications news intern Ashlie Day contributed to this report)[/fusion_builder_column][/fusion_builder_row][/fusion_builder_container]