They've had numerous op-eds in The New York Times, are publishing a book together and just got back from a conference where they joined scholars from Yale, Harvard and Columbia.
Fresno State's husband-wife team of U.S. history professors, Drs. Ethan Kytle and Blain Roberts, are superstars in the world of academia, and they're elevating Fresno State's reputation in the process.
Kytle did his undergraduate work at Haverford College. Roberts got her bachelor's at Princeton University. The couple met in graduate school at the University of North Carolina at Chapel Hill, where they both received master's and doctoral degrees in history.
Now, they're answering a few questions for Fresno State News.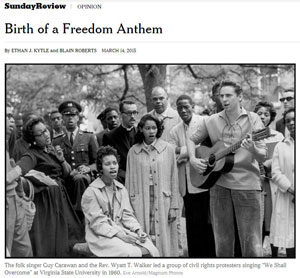 Tell us about your recent publications.
In the last year, we each published our first book.  Ethan's book, "Romantic Reformers and the Antislavery Struggle in the Civil War Era," was released in August. It focuses on the ideas and actions of five abolitionists — Theodore Parker, Frederick Douglass, Harriet Beecher Stowe, Martin Robison Delany and Thomas Wentworth Higginson — who became leading figures in the final years of the crusade against slavery in the United States.
Blain's first book, "Pageants, Parlors and Pretty Women: Race and Beauty in the Twentieth-Century South," was published in March 2014. It became a 2014 Publishers Weekly Notable African-American title. Her book explores how the pursuit of beauty in the South was linked to the tumultuous racial divides of the region.
Together, we have published 15 works of scholarship, including two articles and a book chapter in "Destination Dixie: Tourism and Southern History," which was awarded the 2013 Allen Noble Book Award by the Pioneer America Society.
To reach a broader audience, we co-authored 10 op-eds over the past five years. The most recent, "Birth of a Freedom Anthem," traced the origins of the protest song "We Shall Overcome" to its slave roots.  It was featured in the Sunday Review of The New York Times on March 15.
Given our successful track record at The New York Times, last year the editorial board asked us to write an op-ed about a topic not related to our work on slavery — the Central Valley drought.  The Times published this essay in the print edition in February 2014.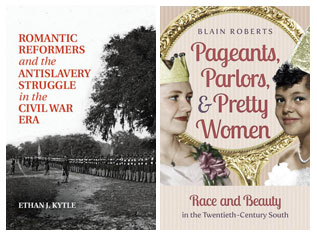 What did it mean to you to be published in such high-profile outlets?
It is, of course, very exciting.  Publishing with a university press is sort of the gold standard for academic historians, and so to have our books come out with top university presses
[Cambridge and North Carolina] has been particularly satisfying.  It has been equally rewarding to have op-ed essays published in national publications such as the Chronicle of Higher Ed and especially The New York Times.
We've been subscribers for almost two decades and look forward each week to making our way through the whole Sunday edition.  To have our "Birth of a Freedom Anthem" appear in the Sunday Review was certainly a special moment.
What does it mean for Fresno State to have professors in The New York Times?
We'd like to think that it helps improve the national profile of the University. The New York Times is the paper of record for the United States. It has an unmatched reach and shapes national conversations on just about every topic. Presidents, CEOs, and the world's leading academics, policy makers, artists and writers compete to get space in the opinion pages.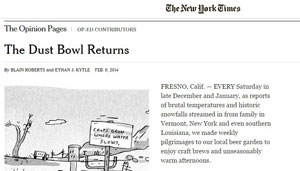 How did you become interested in Southern history?
For our co-authored book on the memory of slavery in Charleston, South Carolina, we became interested in the topic because we lived in the heart of historic Charleston for two years before we came to Fresno State. For two historians, it was a fascinating experience to be immersed in place that fancies itself "America's most historic city."
What we couldn't help noticing, however, is that despite Charleston's emphasis on its past, it largely ignored the institution upon which the city had been built. Charleston was the capital of American slavery.
About 40 percent of American slaves first stepped foot on this continent in Charleston and the surrounding area. Charleston had a black and enslaved majority for most of its early history, while most of its white residents were slaveholders. And it was a city where the Civil War, a four-year war in defense of slavery, began.
Yet listening to Charleston's tour guides, looking at its monuments and museums, you heard and saw virtually nothing about this past.  So, Blain and I decided to study this origins and development of this historical amnesia about slavery.
What is it like to be a husband-wife team working together?

People warned us not to start writing together as a couple. They said that it would end up in divorce. But we haven't found it difficult at all — at least not yet.
In some ways it is easier than writing a book on your own, which we both have done. In that situation, you must do all of the research and all of the writing. This process can take years — decades in some cases — and, as a result, it can be an isolating experience.
In contrast, working together feels more dynamic. We bounce ideas off one another, share the fruits of research trips or trade off sections of the manuscript when we feel like we have hit a wall.
What else do you want people to know about you?
When we are not working on our research projects, or working with students in the classroom, we are spending time with two daughters — Eloise (6) and Hazel (3).