The Americans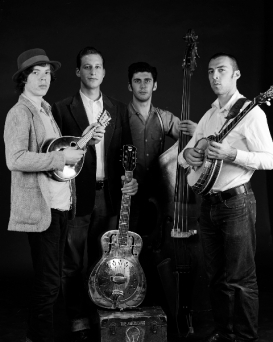 , a Los Angeles-based band that performs original rock-and-roll and traditional American music, will present "The American Music" program at Fresno State at 8 p.m. Wednesday, Feb. 10.
The event will be held in the Music Building Concert Hall and is sponsored by the Music Department.
The quartet, which has performed on the "Late Show with David Letterman" and toured nationally twice with Grammy and Oscar winner Ryan Bingham, presents the saga of rural recording artists who became unlikely stars in the emerging genres of country and blues.
The 45-90 minute program includes renditions of early blues, folk and country on banjo, fiddle, upright bass and guitar. The band discusses the unprecedented melding of cultures and musical genres precipitated by the American recording industry's boom in the 1920s and '30s.
Tickets are $10, general; $5, seniors; and free for students and employees with university ID.
INFO: Dr. John Karr, music professor, at 559.278.2654 or jkarr@csufresno.edu.