For the 40th anniversary   of the U.S. Bicentennial on July 4, Fresno State will post an historic American Revolution Bicentennial (1776-1976) flag at 8:30 a.m. at the Save Mart Center.  The flag was once flown over the White House among other places of honor.
The Fresno State campus will be closed for the national holiday, but the public is invited to attend the brief flag-raising event. Parking will be free in the Save Mart Center parking lot.
The 4-foot by 6-foot flag was gifted to the University this week by alumnus Dr. Elvin C. Bell, a retired U.S. Air Force colonel and Army National Guard brigadier general who is a former Fresno city councilman and mayor pro tem.
The 10-15 minute event will be held at the Save Mart Center flag poles facing Shaw Avenue between Woodrow and Chestnut avenues. Fresno State music education major Ryan Vance will perform "Reveille" and the "Star Spangled Banner" on the trumpet.
The flag will be posted daily until Friday, July 9. It will then be preserved in the President's Office and displayed on special occasions.
The flag is a gift to Fresno State President Joseph I. Castro and Fresno State from Bell, who graduated in 1959 with a bachelor's degree in journalism. He earned a master's degree in public administration at CSU Long Beach in 1978, a law degree from LaSalle University in Chicago and a Ph.D. in business administration at Georgetown University. He was a former adjunct professor at Fresno State and Princeton University.
Bell served 16 years in elected public office, including the Fresno City Council from 1965 to 1979. During his military service, he was assigned to the Pentagon and was an adviser during the Cold War to the secretary of defense and members of the Joint Chiefs of Staff. He was also a special counsel to President Ronald Reagan, providing expertise on Europe.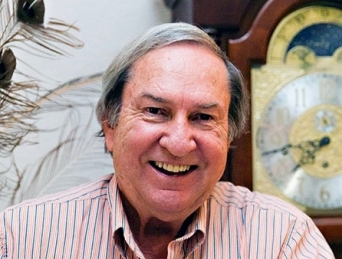 Bell was presented the bicentennial flag by the late Congressman Carl Albert from Oklahoma, a personal friend who was speaker of the House of Representatives in the mid-1970s.
While attending a U.S. Conference of Mayors meeting in Washington in early1978, Bell visited Albert, who presented him the flag during that visit.
"He showed me pictures of it being hoisted to full height over the nation's Capital Building in Washington, D.C. and, with the approval of President Ford, Albert had it elevated to the top of the White House flag pole for half a day," Bell said.
It has also been flown over California's capitol in Sacramento, the U.S. Embassy in Moscow, Russia and Fresno City Hall, Bell said. He has kept it in a bank safe deposit box for 40 years and said he is glad it now has a permanent home at his alma mater.
"I'm pleased that this national treasure, this one-of-a-kind bicentennial flag, has finally found a welcome home here at Fresno State where students, faculty, parents and the general public will see it wave proudly over the campus," Bell said.
At the Fourth of July event, Bell will also present a proclamation that cites the buildings and the dates where the flag was flown.
"We are honored to receive this special gift from our distinguished alumnus, Dr. Bell, on our nation's 240th birthday and the 40th anniversary of the bicentennial," Castro said. "The flag will fly proudly at Fresno State for the first time on July 4 and the campus will serve as its permanent home."