Fresno State's 43rd annual Vintage Days celebration set April 21 through 23 at the Maple Mall on campus will feature live music, food, crafts and the University's award-winning wine with a new feature for children this year — a trackless train ride.
The celebration is the University's largest festival and runs from 10 a.m. to 5 p.m. Friday through Sunday. Each year, Vintage Days attracts an estimated 50,000 people from around the Fresno area and beyond. The festival is planned by eight student-led committees that include various student clubs and organizations.
Another new Vintage Days attraction will be the Fresno State Spotlight, an exhibit in the Satellite Student Union featuring the University's educational and social accomplishments this past academic year.
A Fresno State tradition since 1975, the three-day event features over 40 food and game vendors. Food vendors such as Jay's Specialty Ice Cream, County Fair Cinnamon Rolls and Dutch Bros. will make a return this year.
The circus-themed Kid's Zone will feature inflatables, crafts, a petting zoo and reptile show. Admission to the zone is $5 for a wristband to use all attractions including the new trackless train that boards at the Joyal Administration Building on the south end of the mall (near Maple Avenue) and travels around the area.
The celebration will feature a Crafts Faire showcasing 120 vendors specializing in handmade items including jewelry, home décor and children's toys.
Other festival events include the Performance Series, which features 26 local bands, DJs and solo acts.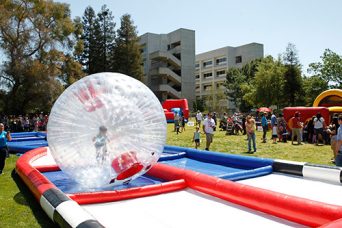 The festival will kick off with the traditional Staff Assembly Pancake Breakfast for students and employees from 7:30 to 10 a.m. Friday at the mall. Tickets are available from staff members for $6 advance or $7 at the door (student tickets $1 discount).
Food and game booths, craft vendors, Fresno State Spotlight and children's activities will be open 10 a.m. to 5 p.m. every day of the festival. The beer and wine garden and live performances will run from 11 a.m. to 5 p.m. throughout the festival.
The students-only Powder Paint Dance Party will be held from 8 to 10 30 p.m. Friday on the lawn north of the Lab School building and will feature music by DJ Burns.
A free screening of the film "Back to the Future" will begin at 8 p.m. Saturday on the lawn outside the Student Satellite Union. Attendees are encouraged to bring snacks and blankets.
Glassblowing demonstrations will be from noon to 5 p.m. Sunday in the Conley Art building.
The festival will conclude with an awards ceremony 4:45 p.m. for best food, game and crafts booths.
General admission and parking is free.
For more information about Vintage Days, follow the event on Facebook or visit Vintage Days. Contact: Shawna Blair at 559.278.2741 or shblair@csufresno.edu.