Fresno State is teaming up with the Central California Blood Center and Donor Network West to rally behind Fresno State's Police Chief David Huerta during a three-day blood drive and organ and tissue registry event.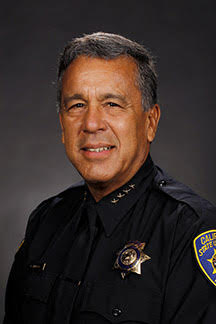 Huerta has proudly served as the University's chief of police for 14 years. In August, he received a lung transplant and required several blood transfusions. He is alive today thanks to an organ donor, and because someone said yes to giving blood.
"Blood and blood products cannot be manufactured, they can only come from volunteer donors. That is why it is so imperative to educate our students and community about the need for blood and blood products," said Taylan Parker, special projects coordinator for the Jan and Bud Richter Center for Community Engagement and Service-Learning at Fresno State. "We are encouraging our local community to be Bulldog Champions and donate blood and join the organ registry in honor of Chief Huerta."
The campus blood drive and organ and tissue donor registry will kick off from 3 to 7:30 p.m. Tuesday, Sept. 18, in the University Dining Hall and will continue from 9 a.m. to 4 p.m. Wednesday and Thursday, Sept. 19 and 20.  Bloodmobiles will be parked near the University Student Union and at the Maple Mall (south of the Satellite Student Union). Local law enforcement is invited to join Fresno State during the Tuesday kickoff.
"Our collaborative efforts give hope to the 22,000 Californians who are still waiting for a second a chance at life," said Marcella Corona, senior community development liaison for Donor Network West.
For more information about Fresno State's Blood Drives, contact Taylan Parker at 559.278.7063 or tbennett@csufresno.edu. For Donor Network West, contact Marcella Corona at 559.490.6949 or mcorona@dnwest.org. For the Central California Blood Center, contact Tatiana Partain at 559.389.5446 or tpartain@donateblood.org.