The sounds of laughter and conversation echo down the hall from a room in the northeast corner of the second floor of the Engineering East building at Fresno State. These echoes are the voices of students in the Lyles College of Engineering who are a part of the Institute of Electrical and Electronics Engineers Student Chapter.
The room is infamous among electrical and computer engineering students for its tiny stature at 450 square feet, but it has had a mighty impact on the students who have walked through its door. For many, like electrical engineering student Elias Karam, it's a "family room" – a place where students gather to discuss projects, study, hang out with classmates and explore opportunities.
"My Fresno State experience can be summarized in four words: academics, involvement, service and exploration," said Karam, who is on track to graduate in May. "This room is really where it all began my sophomore year, where I developed relationships with my peers that I know will last a lifetime. That year gave me a much more realistic taste of what I could expect from electrical engineering, the classes became much harder and I had to put in hours of work on the weekends to earn the sort of grades I wanted. This was also when I became more involved in the Lyles College of Engineering."
That same year, Karam began attending monthly Lyles College Officers Council meetings representing Eta Kappa Nu an honors society where he served as secretary.  He was also inducted into the Tau Beta Pi honors society as a member and he took advantage of the opportunity to travel to national conferences. Shortly after, he was elected senator of the Lyles College student body and advocated for funding to help support the college's student-related activities such as conference attendance and travel.
"My sophomore year was also the beginning of my leadership experience at Fresno State, and paved the way for my future involvement," Karam said.
The 2015 Buchanan High School graduate came to Fresno State on a Smittcamp Family Honors College scholarship.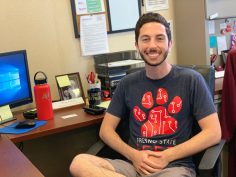 "It lifted the financial burden of attending college off of my parents and provided me with immediate access to friends, mentors and resources," Karam said. "Before even beginning college, my drive to attain a quality education was immensely motivated by my parents. They both immigrated to the United States from Lebanon, and from a young age they instilled in me the passion to always learn more and strive for excellence."
Karam said his mother had just begun her first year of college in Lebanon when she was forced to drop out due to civil war in the country. His father was one course away from a master's degree in electrical engineering when he dropped everything and moved to California to help his parents with their business.
"It wasn't until I was much older that I realized why my parents felt so strongly about education," Karam said. "They did not have an option when it came to their education, and it's something that I consider myself truly blessed to have here in America."
Karam said the Smittcamp Family Honors College also afforded him the opportunity to develop strong relationships with his peers in the program and further develop his academic talents. On Saturday, May 18, Karam is set to be one of 44 Smittcamp Family Honors College students to graduate from Fresno State. He will receive his bachelor's degree in electrical engineering and minor in physics.
"Through the years, I have come to know Elias as an academically talented and motivated student who is able to set long-term goals," said Dr. Saeed Attar, director for the Smittcamp Family Honors College and professor of organic chemistry. "He has the stamina and perseverance to see himself through the effort needed to reach those goals."
Elected as executive vice president for Associated Students, Inc. in 2018, Karam serves as chair of the student senate and as a voice for about 25,000 students at Fresno State – representing the student body by meeting with and lobbying University administration, faculty, the CSU system and California government officials. In this role, he also helps manage a $750,000 annual budget and is a voting member for the committee that awards $1.2 million in grants per year.
Karam holds a 3.80 GPA and completed a summer internship at a global aerospace and defense company Northrup Grumman.
"The biggest reason for my interest in space is the potential that lies in its exploration," Karam said. "Outer space truly is the last frontier and will push humanity to new heights."
Just as he has explored new and unfamiliar opportunities to get involved as a student on campus the past four years, the urge for exploration continues to attract Karam in his career choice.
"I view space exploration as a unifying force for the entire world. It is one of the only fields I know of that can bring together many diverse countries to work towards a common and noble goal. A dream job for me is one where I can take part in both this technological innovation and societal policy change."