Fresno State's third annual Day of Giving will take place from midnight to 11:59 p.m. on Thursday, Nov. 7.
It's early Sunday morning and the Community Health Mobile Unit has just rolled into the parking lot of a small, quiet church in Orange Cove. Locals are already waiting in line, as a group of Fresno State nursing students prepare supplies and medical equipment inside one of two patient rooms of the mobile unit.
Outside, Dr. Kathleen Rindahl, School of Nursing faculty, greets an older gentleman who is there to get his blood sugar checked. After checking in, he is taken inside where a nursing student gently pricks his finger to draw blood, but a reading on the blood sugar monitoring device could not be detected. They try again and still no reading. They later discover that the client's blood sugar level was literally off the charts, resulting in an emergency referral to the hospital for treatment.
Rindahl said cases like this are common and occur at nearly each of the 25-plus mobile unit stops.
Each semester, the mobile unit travels up and down the San Joaquin Valley, visiting surrounding communities where access to health care is not readily available. In total, the mobile unit can rack up as many as 100 miles roundtrip for each visit, traveling as far as Riverdale and Reedley.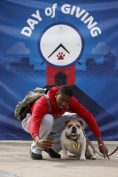 Day of Giving
With funds from Fresno State's Day of Giving — an annual 24-hour online fundraising effort, happening on Thursday, Nov. 7 — enough fuel was purchased to be able to keep the mobile unit up and running safely, while also stocked with essential medical supplies like blood glucose meters and test strips and other equipment needed to serve the over 100 clients who are serviced each visit.
Students also benefit from the experience, gaining valuable clinical skills and community service hours. Since funds were donated, over 300 students in nursing, dietetics and athletic training, among others, have been able to gain hands-on learning in community health. 
The Community Health Mobile Unit is just one example of how funds raised during Fresno State's annual Day of Giving — a 24-hour online fundraising effort — directly benefit students and empower student success.
The third Day of Giving will run from midnight through 11:59 p.m. on Thursday, Nov. 7. This year's goal is to reach 2,250 unique donors, a 5% increase over last year. A live leaderboard will track progress throughout the day, providing real-time updates on the campaign website.
"Day of Giving gifts, no matter how big or small, signal that our region cares about our students and the learning experience they have through Fresno State," said Paula Castadio, Fresno State's vice president for University Advancement. "Every donation to Fresno State prepares our next generation of leaders for the Valley."
Donors can make a gift to a specific college, school,division or program that resonates with them, from among 19 participating areas, including the Jordan College's Farm Fund, Athletics' Student-Athlete Scholarship Fund and the Division of Continuing and Global Education's Veterans Education Program. 
Funds raised will be used for programs and initiatives to help fulfill Fresno State's mission to boldly educate and empower students for success.
Several activities throughout the day will raise awareness — in the campus community and the broader region — about how this effort impacts students and programs.
5 to 8 a.m.

— Students, student-athletes, coaches, alumni and friends will rally community support, cheering alongside the Bulldog Marching Band and mascot TimeOut to promote Day of Giving as morning commuters drive past the Save Mart Center from 5 to 8 a.m. 

11 a.m. to 1 p.m.

— Students are invited, in partnership with Associated Students, Inc. and Student Involvement, to the Speakers Platform by the Peace Garden to help spread the word about the importance of Day of Giving and how philanthropy drives student success at Fresno State.

4 to 7 p.m.

— Later in the day, staff, faculty, alumni, ambassadors and friends can gather at Que Pasa Restaurant at Campus Pointe. A social get-together, in partnership with Staff Assembly, will energize giving in the afternoon and evening, carrying momentum through the day. This event will feature a disc jockey, appetizers, giveaways and the opportunity to vote for your favorite Day of Giving participating area. The top three will receive $1,000 for their area.
Colleges, schools, divisions and participating areas can earn bonus funds totaling $75,000, provided by the Office of the President and the Fresno State Alumni Association. Challenges are designed to encourage donor participation and increase excitement about the campaign throughout the 24 hours.
The participating area that receives the first donation after midnight through the website will win the first challenge — $500 in bonus funds. Other challenges will continue throughout the day, concluding with $500 in bonus funds for the last gift made through the site and posted on the donor wall. The dollars raised through donations plus bonus funds help grow and strengthen Fresno State.
Last year, Fresno State's Day of Giving drew donations from 2,142 individual donors from 42 states and 18 countries, raising more than $456,000.