The Jordan College of Agricultural Sciences and Technology at Fresno State will again play a leading role when the world's largest agricultural exposition returns to Tulare on Feb. 10-12.
At the 48th annual World Ag Expo, the Jordan College will feature a pair of presenters on international trade and water management and will showcase its mobile irrigation education unit.
Dr. Mechel Paggi, director of the Center for Agricultural Business at Fresno State, will speak at 1 p.m. on Tuesday, Feb. 10, about multilateral trade agreements and specifically the Trans-Pacific Partnership, Transatlantic Trade and Investment Partnership, and potential trade changes after the 2014 elections.
He will be joined by Charles Barclay, a former U.S. State Department official who served in Havana, Cuba and will discuss potential new trade agreements.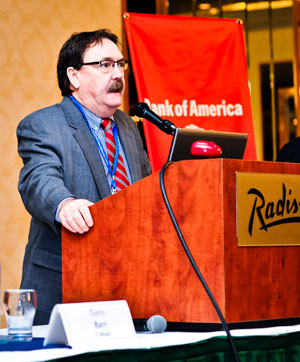 Their presentation will be held in the Expo Seminar Center at Expo Lane and R Street and is one of four international trade talks sponsored that day by the State Center Community College District and Center for International Trade Development.
In his 15th year with Fresno State, Paggi serves as an associate dean for the Jordan College. He oversees agricultural research and outreach within a "farm-to-table" philosophy.
"We are excited to be part of another fine educational program at this year's World Ag Expo," Paggi said. "One of the center's main focuses is international trade, and we will discuss two of the most important current trade issues that affect the U.S., 11 of its Pacific area partner nations and the 28 countries of the European Union. If the agreements are passed, agricultural products will have greater access into these areas that each accounted for over $12 billion of trade in 2013, and were the fourth- and fifth-largest markets for U.S. exports, respectively."
Dr. Bill Green, a Fresno State Center for Irrigation Technology specialist, will present on improving groundwater pump efficiency at 10:30 a.m. Thursday, Feb. 12. He is among nine speakers scheduled for water-related seminars co-sponsored by the Fresno State International Center for Water Technology and the Irrigation Association.
Green will also be on site all three days with the center's mobile education unit that will be housed in the PGE Pavilion.
"The Center for Irrigation Technology is excited to be part of a schedule full of the latest in irrigation technology and help the public learn about the latest trends and developments in water management," said David Zoldoske, director of the center. "The center has been a part of the World Ag Expo for nearly 30 years, and it's an excellent opportunity to connect all parts of our agricultural community–both nationally and worldwide."
This year's expo expects to welcome 100,000 visitors from 70 countries to see the latest in farm equipment, chemicals, communications and technology from 1,400 exhibitors on 2.6 million square feet of exhibit space. More event information is available at www.WorldAgExpo.com .