Days before the 40th anniversary of the fall of Saigon, Pulitzer Prize-winning war correspondent Peter Arnett will speak at Fresno State about coverage of the Vietnam War and the role of American news media.
Arnett is headlining this year's Roger Tatarian Symposium, hosted by Fresno State's Department of Mass Communication and Journalism, from 10 a.m.-noon Wednesday, April 15, in the Satellite Student Union. The public is invited and there is no charge.
Arnett covered most wars from Vietnam through Afghanistan and Iraq. He became most famous as the Emmy-winning CNN correspondent who provided live coverage of the first Gulf War from Baghdad in 1991. Millions around the world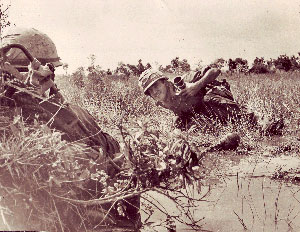 tuned in to watch Arnett's dramatic accounts and his interview with the late Iraqi president Saddam Hussein.
Born in 1934 in New Zealand, where it was typical for journalists to begin their careers straight out of high school, Arnett started as a weekly newspaper reporter at age 17 and worked his way up to big city dailies in Australia and Thailand.
As an Associated Press stringer during a coup d'etat in Laos in 1960, when communications to the outside world were cut, Arnett swam the Mekong River to neighboring Thailand several times to file his stories.
In 1962, the Associated Press dispatched him to Ho Chi Minh City (formerly Saigon) to cover the Vietnam War. He stayed 13 years, and earned a Pulitzer Prize for international reporting in 1966.
The coverage of Arnett and other correspondents showed that the U.S. was not winning the war despite mass casualties among combatants and civilians alike.
This – the focus of Arnett's talk – was a new role for the American news media, whose reporting of World War II and the Korean War had been less critical.
"I was not anti-war, not anti-American and not pro-communist," Arnett wrote later in an article for a French magazine. "The truth of what was going on was important to all parties. I was unwilling to deliberately conceal and hide the truth. And that truth was that the war was going badly for the United States."
Another Pulitzer-winning Vietnam correspondent, the late David Halberstam, wrote in his book, "The Best and the Brightest," that "Arnett is the journalist most respected and beloved by his peers. No one saw more combat and no one would put himself more on the line."
Arnett refused to leave Saigon on April 30, 1975, as the Vietnamese troops moved in and the Americans were evacuating his colleagues. Arnett was in the AP office typing a story when conquering soldiers walked in. Offering them warm sodas, he continued writing his account of the day's events.
Following his retirement in 2007, Arnett taught journalism at a university in China. He now lives in Orange County. Following his 1994 autobiography, "Live from the Battlefield," his new book, "Saigon Has Fallen," will be released April 23.
The Tatarian Symposium is sponsored by a foundation honoring the memory of Roger Tatarian, longtime head of United Press International. A Fresno native, Tatarian spent the final years of his career teaching journalism at his alma mater, Fresno State.
Arnett will take questions from the audience following his talk. One-day parking permits are available for $3 at campus parking dispensers.
For more information, or media interview requests, contact Bradley Martin, Tatarian chair in journalism, at brmartin@csufresno.edu or 559.278.0127.
Related links: