Fresno State will offer a new program to help U.S. veterans earn college degrees thanks to federal funding from the U.S. Department of Education.
The new Student Support Services Veterans  Program is one of two programs each receiving five-year grants totaling $2.5 million along with Fresno State's TRiO Student Support Services Program, said Dr. Frank Lamas, vice president for Student Affairs and Enrollment Management.
Fresno State is the only California university to receive TRiO funding this year.
"We are very appreciative of federal support to better serve our students and impact student success," Lamas said. "This funding strengthens the services we provide our veterans who served our nation."
This is the first time Fresno State has been awarded funding for a TRiO veterans program. TRiO is comprised of eight federally-funded outreach and student services programs that identify and help low-income individuals from disadvantaged backgrounds who are first-generation college students, and individuals with disabilities, to progress from middle school to post baccalaureate programs. It began as three programs created through the Higher Education Act of 1965, hence TRiO.
The programs receive five-year cycle funding. Fresno State's programs will receive annual allocations of $220,000 for the veterans program and $292,340 for the Student Support Services Program during the new cycle that begins Sept. 1.
Systemwide, 20 California State University campuses were awarded a total of $8,067,854 from the U.S. Department of Education for TRiO Student Support Services.
Fresno State now administers six TRiO programs. In addition to Student Support Services, the others are Upward Bound, Educational Talent Search, Education Opportunity Center and McNair Scholars.
The purpose of TRiO Student Support Services is to provide academic support and activities to help undergraduate participants remain in college and graduate.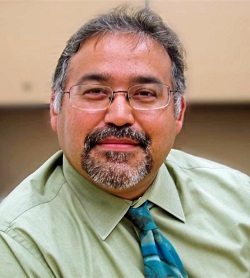 Under the leadership of Eluterio Escamilla, director of the programs, the Student Support Services Program has 200 students enrolled who are served by counselors, a reading/writing specialist, a program assistant, three peer mentors and two academic facilitators.
The new veterans program will serve 120 students with its own counselor, two peer mentors, and two academic facilitators. The reading/writing specialist and program assistant are assigned to both programs.
Escamilla is a veteran of the U.S. Marine Corps and a graduate of Fresno State earning a master's degree in International Relations in 1998.
He said the program will work with two other veterans programs on campus to help identify students: the Veterans Services office in Admissions and the Veterans Education Program (Division of Continuing and Global Education).
To be eligible for either program, participants must be a first generation, low-income student enrolled in 12 or more units at Fresno State and/or have a learning or physical disability. For the veterans program, the student must also have an honorable discharge from military service.
For an application, contact Jennifer Garzon at 559.278.5725 or visit the Thomas Building, Room 122.
For more information, contact Escamilla at 559.278.5727.
Related links: