The Fresno Iris Society and Fresno State Horticulture Nursery will host their annual plant sale from 8 a.m.-noon on Saturday, Aug. 8 at the campus horticulture nursery (3150 E. Barstow Ave.).
The event is the Iris Society's largest fundraiser of the year and will feature hundreds of varieties and colors of plants, including reblooming iris and other unique varieties.
"This is a great time to plant iris rhizomes since they are dormant in the hot months," said Pat Caffrey, treasurer for the board of directors. "They are very drought-tolerant so they can be combined in landscape gardens with other types of water-wise plants. We will offer special demonstrations every half hour with area experts giving advice on dividing, planting and growing."
The sale benefits the non-profit organization's efforts to promote interest in irises. Attendees can also join the club that meets monthly for an annual cost of $10 for individuals, $15 for families and $5 for youth.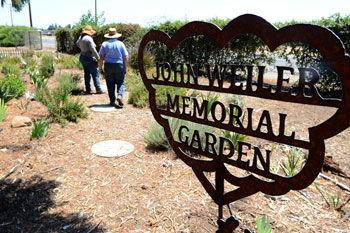 Fresno State horticulture staff and students will also host a nursery plant sale offering a wide array of plants at reduced prices.
The event will showcase the new John Weiler Memorial Garden that features 40 varieties of irises and drought-tolerant perennial plants and honors the former Fresno State botany and plant science professor.
The Lincoln, Nebraska native's passion for irises dated back to high school before he started breeding them in 1949. He began hybridizing reblooming iris in 1970 to create new colors and vigors, and was  known as one of the foremost developers.
As a Fresno State professor from 1962 to 1989, Weiler started the Fresno Iris Society in 1967 and helped open a 10,000-plant campus iris garden in 1981. He later became a president of the Reblooming Iris Society and dedicated his life to sharing his passion for plants with others before he died in 2011.
"Thanks to Dr. Weiler, this campus has a long and special connection to irises, so it's fun to renew that tie at this event every year," said Calliope Correia, Fresno State horticulture nursery technician. "We sold hundreds of rhizome stems last year, and we expect another big turnout this year."
For more information on the event, contact the Fresno State Horticulture Nursery at 559.278.2952 or ccorreia@csufresno.edu.
Related Links: