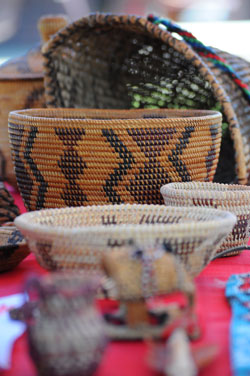 California's newest state holiday, Native American Day, will be celebrated at Fresno State 11 a.m.-4 p.m. Friday, Sept. 25, at the Maple Mall (north end near the Satellite Student Union).
The holiday was signed into law by Gov. Jerry Brown a year ago as Assembly Bill 1973, authored by Assemblyman Roger Hernandez (D-West Covina) and declaring that Native American Day be recognized the fourth Friday in September.
State agencies will remain open and state employees will not have the day off from work.
Fresno State will observe the holiday with a free, family event featuring music, demonstrations, a scavenger hunt and storytelling.
Katie Garcia, outreach counselor for Fresno State's American Indian Recruitment and Resource Initiative, said the purpose of the event is to celebrate the culture and heritage of California's Native Americans and to share the culture with others.
"There are people who are not familiar with the culture and only know what they have been told from history books in school or maybe even what they see on the television, which is often very far from accurate," Garcia said. "This event is an opportunity to share, inform and celebrate."
The new recruitment program was a success in its first year, Garcia reports, with 151 new American Indian students for the fall 2015 semester — more than double the enrollment of 82 in fall 2014.
Friday's event will begin with a color guard flag presentation followed by a formal opening and blessing from a tribe elder.
Dr. Frank Lamas, vice president for student affairs and enrollment management, will provide the welcome message.
Manuel Lieras, of the Diné/Comanche tribe,will lead a session in culture and history, including live drumming and dancing. Attendees who would like to share their own cultural story are encouraged to sign up at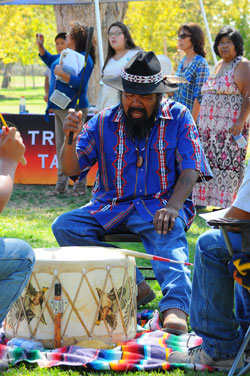 the announcer booth.
There will be resources, demonstrations and a scavenger hunt in which participants can win a free meal ticket, raffle ticket or other selected prizes.
Nearest parking is Lot P-15 on Barstow and Maple or Lot P-6 east of the Peters Business Building. Day permit is $3 at dispensers in the parking lots.
The event is co-sponsored by Fresno State's Cross Cultural and Gender Center and First Nations Indigenous Student Organization and the Owens Valley Career Development Center.
For more information, contact Garcia at 559.278.2048 or katie_garcia@csufresno.edu.
(University Communications news assistant Erika Denise Castañon contributed to this report.)
Related links