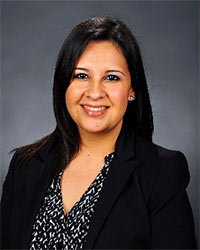 Gabriela Encinas has been named coordinator for the Dream Success Center (formerly University Migrant Services), announced Frank Lamas, vice president for Student Affairs and Enrollment Management.
The program is one of two under the University's new Dream Center Initiative that began last fall to serve undocumented students who are called "Dreamers" after The California Dream Act. The initiative began with the Dream Outreach component in September under Raul Z. Moreno that focuses on recruiting new students.
The second phase, Dream Success, works with students already enrolled said Maxine McDonald, associate vice president for Student Success Management, who oversees this component under the Educational Opportunity Program.
Dr. Malisa Lee, associate vice president for Enrollment Services, and Martina Granados, director of University Outreach Services, oversee the outreach component.
Prior to her appointment, Encinas, 36, worked on campus as an academic adviser with the College Assistance Migrant Program and most recently with the Jordon College of Agricultural Sciences and Technology.
She is a Tulare Western High School alumnae who earned a bachelor's degree in chemistry from Fresno State and is working on her master's degree in Educational Leadership and Administration.
"Gaby has first-hand knowledge and experience with challenges facing undocumented students – Dreamers – as they seek access to higher education and pursue a college degree," said Lamas.   "She also has experience in coordinating, developing, and implementing programs and services to support the academic success of students from migrant backgrounds."
In February, the University launched a fundraising campaign for the new Dream Outreach and Success programs' efforts to help the undocumented enter college and achieve academic success. For more information about donating, contact David Hembree, development director for Student Affairs, at dhembree@csufresno.edu.
For more information about the Dream Success component, contact Encinas at 559.278.1554 or gencinas@csufresno.edu.