A Communities Talk Town Hall discussion about preventing underage drinking especially during the upcoming Commencement season will be held at 5 p.m. Wednesday, April 20, at the Smittcamp Alumni House Courtyard at Fresno State.
The free public town hall will discuss alcohol issues on campus, prevention needs and solutions as part of the Safe Celebrating Campaign designed to tackle the problem of substance abuse at graduation time after some incidents in the past. Commencement events at Fresno State are May 20 and 21.
The campaign will include an invitation for students to take a Safe Celebrating Pledge at a Wellness Fair from 11 a.m. – 2 p.m. Wednesday, April 20, in the University Dining Hall, east wing.
Other campaign events planned are the Class of 2016 Bulldog Stadium Celebration May 12 and the Bulldog Grad Walk May 21 prior to Commencement.
The town hall and campaign are presented by Fresno State's Alcohol, Tobacco and Other Drugs Safety Council with Communities Talk, an initiative sponsored by the Substance Abuse and Mental Health Services Administration (SAMHSA) as the lead agency for the Interagency Coordinating Committee on the Prevention of Underage Drinking.
The initiative facilitates events for community-based organizations to mobilize their communities to prevent underage drinking. Since 2006, more than 8,000 SAMHSA-supported Town Hall Meetings have been held across the country.
"The town hall discussion will focus on alcohol use around commencement and engaging community support for alcohol prevention efforts," said Dr. Kimberly Robertello, council coordinator for the Fresno State Student Health and Counseling Center. "Involving local community members in this discussion promotes safety for our students through increased communication with community leaders and business people surrounding our campus."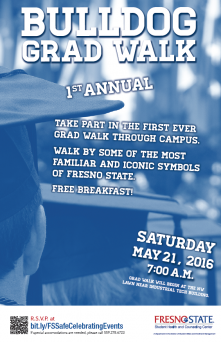 She said the University is taking action because of incidents in which intoxicated students were removed from graduation ceremonies last spring. She also cited local statistics for 2014 in general:
The City of Fresno experienced 17 pedestrian deaths in 2014, 58 percent of whom had consumed either alcohol or drugs prior to being struck. The average blood alcohol content for those 10 pedestrians was .23 percent, which is nearly three times the legally impaired driving limit.
Fresno State Police cited 15 DUI arrests and 18 drug abuse violations in 2014.
"Topics at the town hall will include the impact of alcohol abuse on student success, alcohol use at Fresno State, prevention efforts in the community, relationships with local businesses and alcohol-related consequences," Robertello said.
She said invitations have been extended to many in the community such as treatment providers, all area high schools and business owners near the University.
The May 12 celebration in the football stadium (Barstow and Cedar avenues), gives graduating students a chance to celebrate safely, Robertello said.  Students can wear their cap and gowns and pose with mascots Victor E. Bulldog III and Time Out with the Jim Sweeney Field as a backdrop. The event will include free food and drinks and raffle prizes for those in attendance.
Free t-shirts that say " Fresno State Safe Celebrating" will be distributed to the first 50 students.
The Bulldog Grad Walk on the morning of the main Commencement ceremony will be a mile-long final leisurely trek beginning at 7 a.m. with a free breakfast. Led by campus leaders through campus to the Save Mart Center, the procession will pass by memorable campus landmarks: the Madden Library, Peace Garden, Memorial Fountain, Rose Garden and Smittcamp Alumni House.  Students will gather at the northwest lawn of the Grosse Industrial Technology Building to commence the walk, which will end at the Save Mart Center loading dock in time for graduates to line up for the ceremony processional.
"We hope these activities will promote Commencement as a meaningful event while enhancing alcohol abuse awareness on campus and engaging students in safe celebrating," Robertello said.
For more information, contact Robertello at 559.278.6723 or krobertello@csufresno.edu.
Related links: