Fresno State's Lyles College of Engineering will host its annual Projects Day featuring more than 100 engineering and construction management projects from 2 and 6 p.m. Wednesday, May 11, in the Satellite Student Union. University President Joseph I. Castro will speak at 3 p.m. followed by a short tour and project viewing.
The event is free and open to the public.
Projects from students in civil, computer, electrical, geomatics and mechanical engineering as well as construction management will be on display.
"Besides their studies, students have worked diligently on these projects for up to an entire year," said Dr. Ram Nunna, dean of the Lyles College. "And, if they come to fruition, many of the projects could have a great impact on our society at-large."
Projects address food and child safety, water treatment, sustainabilit
y and the needs of persons with medical conditions and disabilities.
There will be hands-on demonstrations of a GPS system, a ball-balancing robot, an automatic golf ball dispenser. Fresno State's Tiny House Project, which is currently under construction by students, will be parked outside of the event.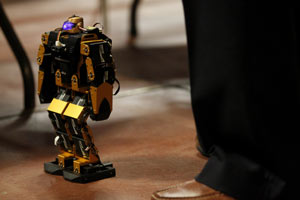 "This is the largest Projects Day we've had thus far," Nunna said. "The fields of engineering and construction management are growing, and we are looking forward to the future of our college. Students are excited to show their work and with great faculty support they've really done a spectacular job on all their designs."
The Lyles College has offered engineering courses and programs since 1922, and there are currently 1,700 students pursuing degrees.
Related Links: