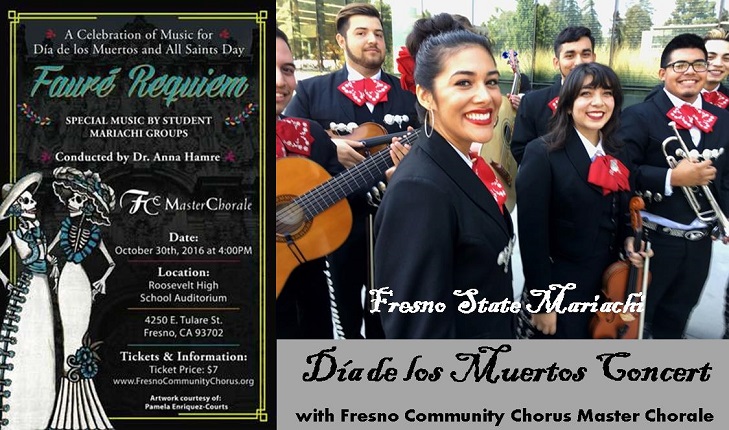 The Fresno Community Chorus Master Chorale will celebrate its 61st season with a special fall concert in the Roosevelt High School Auditorium at 4 p.m. Sunday, Oct. 30 that features the Fresno State Mariachi.
The concert commemorates and blends two upcoming customs: Día de los Muertos, the Mexican tradition of honoring the deceased, and All Saints Day Nov. 1 honoring saints. The general admission fee is $7.
The concert will be divided into Western-European, secular and celebratory segments with mariachi ensembles from Fresno State and Roosevelt High School.
Beginning with "Requiem" (Mass for the Dead), under the baton of Fresno Master Chorale Artistic Director Anna Hamre, the concert also includes the entire cast performing "La Bruja," a Mexican folksong about a witch, before the audience is invited to join in the celebratory finale "Cielito Lindo," ending the night with a lighter, positive message.
Hamre said that through this cultural theme, the Fresno Community Chorus Master Chorale's goal is to feature a diverse group of musicians and provide high quality musical experiences to the community.
The Fresno State Mariachi is directed by Dr. Donald Henriques, ethnomusicologist and assistant professor  in the Fresno State Music Department.
INFO: Hamre at 559.278.2539 or ahamre@csufresno.edu.  Tickets.