Fresno State's Lyles College of Engineering will host its 10th annual Projects Day featuring more than 100 engineering projects addressing manufacturing and energy solutions, solar, waste water treatment, security, irrigation and highway interchanges.
The free, public showcase will be open from 2 to 6 p.m. Tuesday, May 9, at the Satellite Student Union.
"There will even be a design of a facial recognition security system, solar panel cooling system for automobiles and even a design of a mechanical bee for artificial pollination," said Dr. Ram Nunna, dean of the Lyles College. "Our students come up with some brilliant ideas and find ways to design them and turn them into reality. It is inspiring to watch them work side by side with their peers and professors and be innovative."
Nunna and Dr. Lynnette Zelezny, provost and vice president for academic affairs, will deliver remarks at 2:30 p.m. followed by a short tour and project viewing. Also in attendance will be Dr. Loren J. Blanchard, executive vice chancellor for academic and student affairs for the California State University, and representatives from the offices of Rep. David Valadao, Jim Costa, Assemblyman Joaquin Arambula and Assemblyman Jim Patterson.
Projects from students in civil, computer, electrical, geomatics and mechanical engineering and construction management will be on display.
In 2016, mechanical engineering student Fahad Alzuwaid and project team members developed a mechanical exoskeleton that can be powered by a person paralyzed from the waist down by use of their upper body muscles.
"I explained to kids how my project worked and how it can help people, and they were awe stricken by it," he said. "That had a positive impact on how they viewed my field of study and what we can accomplish as engineers."
This year, Alzuwaid and his team members will present two supported by grants from the U.S. Department of Defense and Southern California Edison that address solar and various energy harvesting methods.
"Undertaking a project is challenging and forces us to grow through our accumulated acquired knowledge," Alzuwaid said. "It's important to show how we, as students and upcoming professionals in our field, have developed the required foundation and mindset to take on the challenges that may come in our professional careers. It's definitely been an undercover journey and we feel proud to be able to unveil it to the public."
Other hands-on demonstrations will include an augmented reality sandbox and virtual reality goggles for use in topographical mapping.
There are currently 1,700 students pursuing degrees in the Lyles College, which has offered engineering courses and programs since 1922.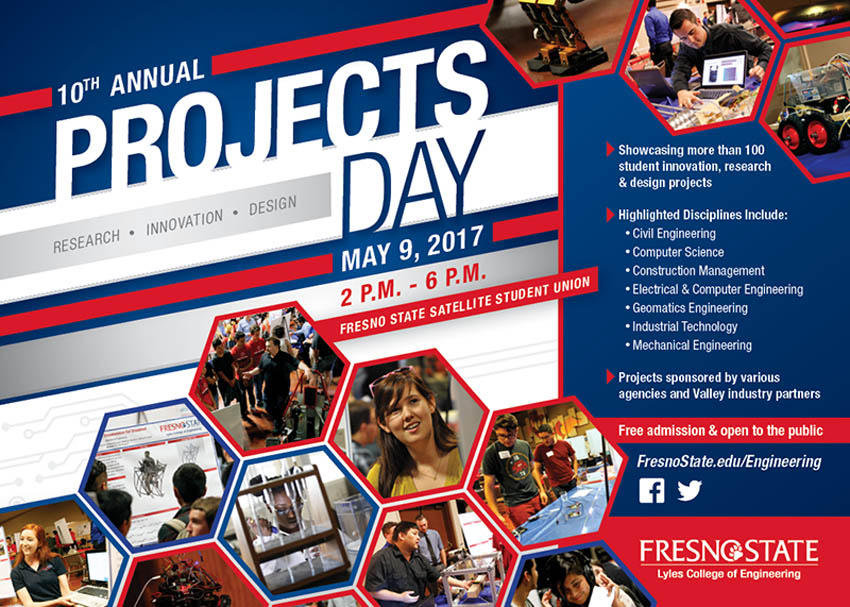 Related Links: