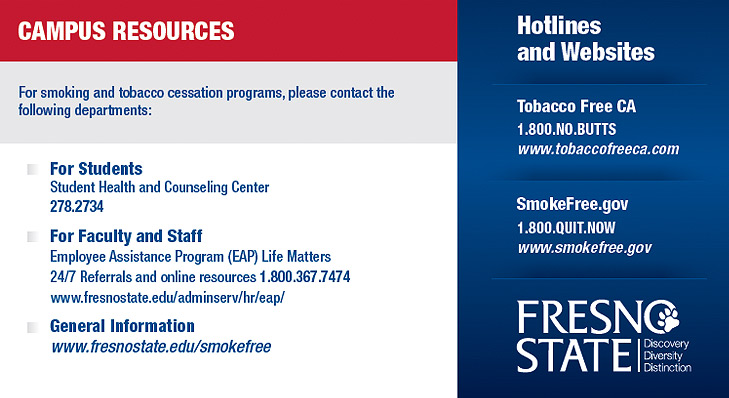 Fresno State announced today its plan to provide a clean, safe and healthy environment for the campus under a new California State University system-wide policy requiring all 23 campuses to become tobacco, smoke and vapor free beginning Sept. 1.
The University's "Clear the Air" campaign will educate students, employees and campus visitors about the new policy adopted in the spring 2017 semester by the CSU Chancellor's Office with Executive Order 1108.
State law already bans smoking from workplaces and all buildings accessible to the general public throughout the state as well as within 20 feet of buildings. Title 5 of the California Code of Regulations authorizes universities to set and enforce smoking and tobacco policies.
The new CSU policy, which will be in effect at all times, applies to all University property, including buildings, athletic venues, residence halls, parking lots, vehicles and grounds. This includes no smoking, vaping or tobacco use inside any personal vehicles located on Fresno State property.
This restriction applies to tailgate gatherings and other outdoor, on-campus events. The new plan also removes 22 designated smoking areas that had been established under Fresno State's previous smoking policy.
Fresno State offers cessation resources for students, faculty and staff at: http://www.fresnostate.edu/adminserv/smokefree/cessationprgs.html.
To help support the implementation and communication of this new policy, University President Joseph I. Castro assembled a committee of 20-plus members including students, faculty and staff. The committee is led by Deborah Adishian-Astone, Fresno State vice president for administration. Adishian-Astone said the primary goal of the committee is to educate the campus community and public about the smoke-free policy.
"We are sensitive to what this change will mean for our campus community, so we want to do as much as we can through educational programs, communication and resources," Adishian-Astone said. "To support this goal, the 'Clear the Air' educational campaign will create awareness of the change and invite cooperation as we move toward creating a healthier campus environment."
She said Fresno State campus and community members are asked to help create a smoke-, tobacco- and vapor-free environment using community reinforcement.
"Community reinforcement relies on individuals to educate one another about the smoke-free policy and the value of breathing smoke-free air," Adishian-Astone said. "Studies show that tobacco-, smoke- and vapor-free campus policies can reduce tobacco use and exposure to second-hand smoke, which provides health benefits to the entire campus community."
Resources:
Fresno State Smoke Free Committee members – www.fresnostate.edu/smokefree
Related Links:
Fresno State Alcohol, Tobacco and Other Drug Safety Council
CSU Executive Order 1108 (PDF)
Smoking cessation and counseling programs
Enforcement protocols (reporting noncompliance)
CSU Tobacco-Free Policy Rationale (PDF)