Fresno State's first-ever Day of Giving (D.O.G.) campaign is gearing up for 24 hours of online giving action beginning tonight with campus and community spirit events like a bowling tournament, a Victor E. Bulldog III appearance, a concert and a crazy socks contest.
This one-day effort, with the theme "Time to Feed the D.O.G.," encourages alumni, friends, faculty, staff, parents and students to make a donation to one of Fresno State's schools and colleges or the University program of their choice during the midnight-to-midnight campaign on Nov. 2.
The campaign was announced Monday and social media reaction has been overwhelmingly positive said Paula Castadio, Fresno State's vice president for University Advancement.
"We've already reached over 100,000 unique visitors on Facebook after posting a video last week teasing the date and the big announcement," Castadio said. "Spreading the word about this campaign and giving online on this day will make possible scholarships, research, internship programs and improved learning spaces for our students.
"It takes a lot of bones to feed the D.O.G.," she added.
Fresno State's eight schools and colleges, Department of Athletics, Fresno State Alumni Association, Henry Madden Library, President's  and Fresno State Central Fund) plus the divisions of Student Affairs and Enrollment Management, Graduate Studies, Continuing and Global Education will be competing to win daily and hourly challenges based on alumni and donor participation. Cash incentives provided by the Fresno State Alumni Association and the President's Office will stretch donations contributed by donors.
Most of these campus partners have events planned during the campaign:
Craig School Pajama Pre-Party — One of the first events is a pajama party movie night hosted by the Craig School of Business at 10 p.m. Wednesday, Nov. 1, leading up to the start of the online giving at midnight when Dean Robert Harper will join Craig School scholars to make a personal appeal for donations. Victor E. III is scheduled 9:30-1030 p.m.
Rise Together — On Thursday, from 5-7 a.m., the University's official kickoff will include the lighting of the Save Mart Center's Shehady Tower in Bulldog red at 5 a.m. with live media interviews featuring University President Joseph I. Castro, Bulldog coaches and other officials who will participate on site near Shaw and Chestnut avenues during a mini-rally at that time. Community members are invited to wear red on the Day of Giving to celebrate Bulldog pride and community engagement.
Student Rally — From 5 to 9 a.m., student mini-rallies at select intersections surrounding the campus will feature students holding signs expressing Fresno State pride along with their gratitude for the community's support.
Fresno State athletics will make a strong showing at the kickoff led by Director of Athletics Jim Bartko. Several coaches and their teams will join him including softball coach Linda Garza, baseball coach Mike Batesole, women's tennis coach Ryan Stotland, wrestling coach Troy Steiner and men's basketball coach Rodney Terry.
Campus Bite — Faculty, staff and students will be invited to "Feed the D.O.G.," the campaign's lunchtime fair from 11 a.m. to 1 p.m. in Memorial Court near the  Kennel Bookstore. Community food trucks, music, selfie photo opportunities, games and thank you note-signing by students will reinforce a campus culture of philanthropy.
Overcoming Barriers — The Lyles College of Engineering will present an inflatables obstacle course from 1 to 3 p.m. for students to compete, promoting that barriers to giving can be overcome. The college will also unveil a new dog house built for live mascot Victor E. III by construction management students. It stands 3 feet wide by 5 feet long and is 7 feet tall. The entrance is large enough for Victor E. III and students to run through.
Thank you card signing — From 8 a.m. to 5 p.m., the Jordan College of Agricultural Sciences and Technology invites students to sign thank you cards in the Agricultural Education building quad, and the Kremen School of Education and Human Development invites students to do the same from 3 to 5 p.m. in the Kremen building lobby.
The Arts and Humanities of Giving — Several events are planned throughout the Day of Giving such as a Día de los Muertos altar at the Speakers Platform (north of Madden Library) from 8 a.m. to 3 p.m.; faculty, staff, students and supporters will gather at noon for a big group photo on the amphitheatre lawn; a concert "Celebrating 30 Years of Clarinet at Fresno State" and featuring guest artist Mark Nuccio at 12:30 p.m. in the Concert Hall; the Laureate Lab in the Madden Library opens at 4 p.m. so visitors can unleash their creativity on Day of Giving; an ArtHop reception for "Unsung Heroes: Do You Know Who I Am?" will be held from 5 to 8 p.m.at the M Street Graduate Studio downtown; a Fresno Poets' Association reading featuring Shawn Wen will be at 7 p.m. in the Alice Peters Auditorium (Peters Business building); and University Theatre presents "Native Son" at 7:30 p.m. in the Dennis and Cheryl Woods Theatre in the Speech Arts building.
"Be Bowl'd Extravaganza" — The Day of Giving events on campus conclude from 7 to 11 p.m. with the "Be Bowl'd Extravaganza" D.O.G  bowling tournament  featuring 16 teams of  students and staff bowling for the Vice President's Trophy. And a new Dr. Lamas' Crazy Socks Challenge will also be held. Food will be available at the snack bar until 9 p.m. and family and friends are welcome.
The Fresno State Day of Giving website will feature live leaderboards and trackers updating the money raised for the entire campus throughout the day at: dayofgiving.fresnostate.edu leading up to the midnight conclusion.
On Friday, the final official outcome will be announced.
For more information, contact Jennifer Mariucci at 858.284.9134 or jenmariucci@mail.fresnostate.edu, or see the D.O.G. Frequently Asked Questions page: https://dayofgiving.fresnostate.edu/giving-day/4022/faq.

University Communications news intern Yesenia Candelaria contributed to this report.
Original press release: bit.ly/FSN-DayOfGivingDOG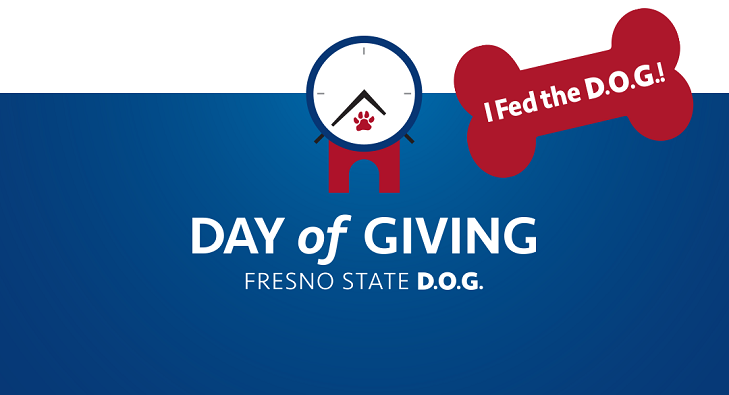 Special Day of Giving Snapchat filters will be available Thursday. Volunteers along Shaw and Cedar can use one from 7 to 9am, and another is scheduled over the center of campus, from the library to the USU to outside the Kennel Bookstore 9 a.m. to 3 p.m. Use it, save it, and post it on other social media as well!