Dr. Scott Moore has served as interim dean of the Division of Continuing and Global Education at Fresno State for the past four years, working to provide students and community members with international education programs, extended education and professional development courses.
After a national search, interim Fresno State Provost Robert Harper selected Moore, a longtime professor and administrator, as permanent dean of the division.
"Dr. Scott Moore has done an excellent job in his interim role as dean of Continuing and Global Education, including the incorporation of support for international students," Harper said. "He has proven himself the best candidate for the position going forward. I look forward to his advancing the University mission to boldly educate and empower our students for success."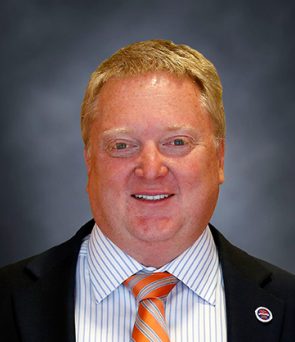 While serving as interim dean, Moore secured institutional approval for multiple self-supporting certificates and degrees. He applied to establish the University's first fully-online degree completion program for a bachelor's in liberal arts.
Moore is the principal investigator of the Veterans Education Program, supported by grants and donations, to provide access and educational opportunities to United States veterans. The program has a special curriculum to ease a veteran's transition from a military to civilian role and has twice been presented to the California State University Board of Trustees.
In 2015, Moore opened the University's first satellite campus in downtown Fresno, which is undergoing an urban revitalization, to offer professional development programs through a strategic partnership with technology businesses.
"Together we have made thousands of educational opportunities for students in our Central Valley," Moore said. "I'm looking forward to many thousand more."
A first-generation college student, Moore holds a bachelor's degree from Austin College and a master's and doctorate from the University of Oklahoma. He is an alumnus of University of California, Berkeley's Executive Leadership Academy and the Western Academic Leadership Academy. He also holds a number of professional leadership and educational certificates, including a certificate of management from Harvard.
Moore joined Fresno State in 1997 as an assistant professor of communication and later served as interim chair of the Philosophy Department. He has served as the interim executive director of the Lyles Center for Innovation and Entrepreneurship and associate dean of Continuing and Global Education.
Outside of Fresno State, Moore is active in community organizations and serves on the board of directors for the United Way of Fresno and Madera Counties and the Downtown Fresno Foundation.