Catherine Mueller, a Fresno State senior biochemistry major from Fresno, is one of 23 students chosen by the California State University to receive the 2018 CSU Trustees' Award for Outstanding Achievement, the CSU system's highest recognition of student achievement.
Mueller is the Trustee Emeritus Peter Mehas Scholar.
The award is given each year to students — one from each campus in the system — who demonstrate superior academic performance, personal accomplishments, community service, and financial need.​​​ It is accompanied by a donor-funded scholarship ranging from $6,000 to $12,000.
"These student scholars embody the leadership, diversity and academic excellence the California State University is known for," said CSU Chancellor Timothy P. White. "They have traced unique paths to their goal of a higher education and serve as powerful examples to their families, communities and California. The awards will give these high-achieving and deserving students even more opportunities to attain their academic and career goals."
Mueller grew up surrounded by substance abuse and violence. She knew she wanted more for herself, and that an education could help her achieve her dreams. While attending Fresno State, she decided to combine her dedication to serving the community with her love of science to pursue a career in pharmacy.
"Every experience and opportunity, whether positive or negative, has helped shape me into someone I am proud to have become," Mueller said.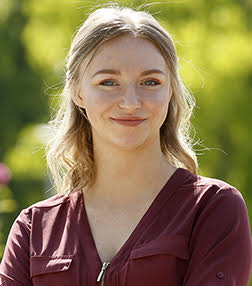 Mueller serves as president of the Pre-Pharmacy Club at Fresno State, conducts research in a biochemistry research lab on campus, and volunteers in the pharmacy at Valley Children's Hospital in Madera. As a top student leader, she also dedicates her time to serving as a mentor for incoming Health Careers Opportunity Program students.
She plans to obtain a doctor of pharmacy degree with the goal of becoming a clinical pediatric pharmacist.
More than 340 students have been honored with the Trustees' Award since the scholarship program was established in 1984 by the William Randolph Hearst Foundation.
The awardees will be publicly recognized during the CSU Board of Trustees meeting in Long Beach on Tuesday, Sept. 11.