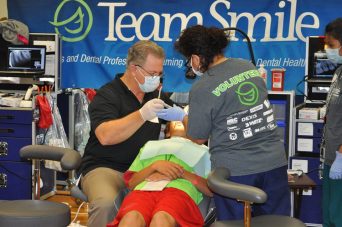 Dental decay is the most chronic disease in childhood and is most prevalent among low-income children, according to the latest U.S. Surgeon General's Report on Oral Health.
In Fresno County, where many residents live below the poverty line, this is especially true. It is estimated that low-income children are two times as likely to suffer from tooth decay.
To address this, Fresno State will partner with TeamSmile for its annual free dental event from 9 a.m. to 2 p.m. Saturday, Nov. 10, at Fresno State's South Gym. As many as 300 children from Fresno, Clovis and Central unified school districts, and throughout Fresno County, will participate.
All children, ages 6 to 18, will receive a full dental examination and a variety of services, including cleanings, cavities, root canals and tooth extractions. Participants and their families will also receive preventative and oral health education.
"Our goal is not only to provide free dental care, but to educate our youth on the importance of preventative dental care," said Dr. Xavier Gutierrez, team dentist for Fresno State athletics. "Despite the many wonderful schools and programs for children in the Central Valley, many students are left without dental care. Over 52 million school hours are lost each year due to dental pain. It would be great to not only reduce our students' pain, but also help keep them in school."
This marks the 12th year that Fresno State has partnered with TeamSmile — a national organization that partners with sports teams across the nation to provide children with free oral care and education on proper dental hygiene. Fresno State was the first NCAA school to host the program on a college campus, and is one of only a few universities in the U.S. that participates annually.
Student-athletes, as well as Fresno State mascot TimeOut, will be among the many volunteers interacting with children and hosting educational activities.
Since 2007, over 1,000 children from Fresno County have received free dental care valued at almost $1 million. For many children, this will be the first time they have ever receive dental treatment.
Researchers with Fresno State's Central Valley Health Policy Institute say this is not uncommon.
"State and national trends indicate that oral health is a justice issue, with low-income people, people of color and rural residents at greater risk for negative outcomes," said Dr. John Capitman, executive director of the institute.
The Central Valley Health Policy Institute is conducting research on this through a partnership with DentaQuest Foundation to achieve Oral Health 2020 goals.
Gutierrez will join over 60 dentists and dental professionals participating in Saturday's event, with a majority coming from Fresno-Madera Dental Society and Henry Schein Dental. Local dental assistant students from Reedley College will lend their services, as well as students from Fresno State's Pre-Dental Club. Fresno State students from various majors will also volunteer.
For more information, contact Dr. Xavier Gutierrez a 559.259.5877 or visit www.teamsmile.org.