A young mother with low income, a lack of resources, a 120-mile daily commute to Fresno State and several jobs and internships along the way used her challenges to fuel her drive and motivation to succeed.
Ana Dominguez is 21 years old, is raising her 3-year-old son, Liam, and is about to receive her degrees in political science and criminology from Fresno State. Her next stop is the University of California Davis School of Law.
She hails from the small town of Huron, on the West side of the San Joaquin Valley, which doesn't have its own high school. Every day, she hopped on a bus at 6:15 a.m. to travel about 20 miles to Coalinga High School. Because of hardships like this, only about 25 percent of Huron residents graduate from high school, according to the 2018 American Community Survey — and only 1 percent go on to earn a bachelor's degree.
Dominguez was determined to be part of that 1 percent.
"I didn't really give myself that option of doing bad," Dominguez said. "I always pushed myself. I figured that if I didn't do well in school, if I didn't further my education, I wouldn't really have the future that I wanted. I tried really hard for good grades, and I put in a lot of work."
She held on to that mindset when she was accepted into Fresno State. She had clear goals for what she wanted out of her undergraduate experience, although life threw a few curve balls at her.
At age 18, she gave birth to her son two weeks before her second year at Fresno State began. She said it was the support and understanding from family, her longtime boyfriend Gabriel Leon (Liam's father) and professors that helped her continue on her path.
"I actually had to bring my son to class one day because I didn't have a babysitter and my professor, Dr. Kenneth Hansen, was totally understanding," Dominguez said. "I was actually practicing my little speech, saying 'I'm so sorry I had to bring him,' and he was like, 'I understand.' At that moment, I realized I made the right decision coming here. These professors really care."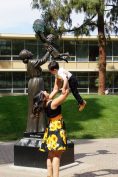 Associated Students, Inc. at Fresno State recently adopted a resolution in support of pregnant students, student parents and students with dependents, and funded the first-ever Student Parent Resource Fair on campus to promote services for Fresno State students who have children.
Though Fresno State doesn't currently have statistics on the number of student-parents on campus, women's studies professor Dr. Larissa Mercado-Lopez estimated that about 20 percent of Fresno State students are parents.
As a double major, Dominguez enjoyed learning from police officers within the criminology field and individuals who have drafted policy within the political science realm. She plans on practicing employer law, wrongful termination, sexual harassment and discrimination. Becoming an attorney is a career goal she developed at a young age.
"When I was 12 years old, my mother sustained an injury at her workplace," resulting in the loss of her job and the family declaring for bankruptcy, Dominguez said. "The lawyer who represented her would regularly insult her, calling her 'uneducated' because she couldn't speak English. To the lawyer this was one case, but to my mother this case was her one life."
She wants to be the lawyer she wishes her mother had — one who empathized, understood and was willing to pursue justice.
"I remember the burning anger I felt, listening to him speak to my mother in that way," Dominguez said. "It was then that I knew I wanted to become a lawyer."
Dominguez has been recognized as the Political Science Department outstanding student for her academic achievements. She is currently interning with the Bryant Whitten, LLP law firm in Fresno and has been offered a job after graduating law school.
"I've already accepted my seat to University of California Davis School of Law, also referred to as King Hall. It's definitely scary. I'm nervous, but I also recognize that it's something that I need to do," Dominguez said. "The people in my hometown need lawyers, and I feel like it's my duty."
The obstacles she had to overcome were difficult and humbling. From going to bed hungry after her mother's injury resulted in the loss of her job, to raising a little boy while she was still a teenager, these obstacles have shaped her into the person she is today.
"My experiences have taught me that the odds will rarely be in my favor, and yet somehow, with a little hard work and a lot of determination, I'll still succeed."