School was never a priority for Jason Her.
The Merced native enlisted in the U.S. Marines at 17 and took off on a 10-year military career with tours in Japan, South Korea, Afghanistan and Iraq.
It was a move to find himself after years of feeling lost. His father left the family when he was a toddler and his mother remarried, blending two families while Her said Hmong tradition and cultural norms overshadowed his need for love and support.
Life wasn't any easier in the Marines. Her was always the smallest — standing 5 feet, 4 inches tall — and the one who got picked on the most. He ignored it, putting his energy into training and his work as a military mechanic. He rose quickly through the ranks to staff sergeant.
But something was missing when he got out of the military.
"I felt incomplete without an education," Her said. "Education is an opportunity for us to get somewhere in life. Education became something I wanted for myself."
On May 18, Her, now 32, will graduate from Fresno State with a bachelor's degree in social work, two years after transferring from Fresno City College. He will spend the summer studying abroad in a service learning program in South Africa. In the fall, Her will start a graduate program in social work at the University of Southern California.
His goal: to help at-risk children and those who struggle emotionally like he did as a kid. Her also wants to help southeast Asian and military families because he understands their challenges, he said.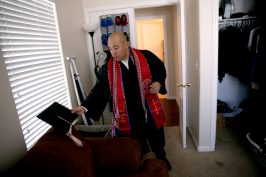 "I lived in poverty. I was influenced by gangs. Education wasn't a priority. My parents are immigrants who came from war," Her said. "I understand people who have conflicts … see the trauma that people have gone through. I can help them out as a social worker."
The road to a college degree was tough. Her almost quit a couple times at Fresno City College. "It was hard to adjust. I had been out of school for so long," he said.
But Her was determined. At Fresno State, he attended classes during the academic year but also took courses during winter intersession and summer session to finish in two years.
He is a member of the Asian Social Work Organization, received National Coalition Building Institute training to eliminate prejudice and intergroup conflict, completed suicide prevention training and volunteers in the community.
He received help and advising through TRiO Student Support Services Veterans, a program under the Division of Student Affairs and Enrollment Management that provides retention activities and services for first-generation, low-income or disabled veterans.
"He's very dedicated and focused, but also very modest," said Russell Gross, a veteran counselor who has worked with Her since 2017. "He might not have made all the social events and activities but he was very focused and used our services. He was never at risk."
Her, who has a 3.6 GPA, was a nominee for the 2019 Undergraduate Deans' Medalist award, which recognizes an outstanding student based on academic excellence, community involvement and other achievements. He is interning with Fresno Unified School District's Department of Prevention and Intervention working with at-risk students. Her also performs work study at the VA Central California Health Care System hospital in Fresno.
"I never saw myself going this far in school, never in my wildest dream," Her said. "I didn't see myself going into a master's program because my plan was to graduate, get my bachelor's degree and try to go back in as an officer in the military."
But the ball is rolling, he said.
"I decided to apply for graduate school. I said why not just apply for it?" Her said. "Hopefully, it works out and I'll move onto the next thing and see what happens."