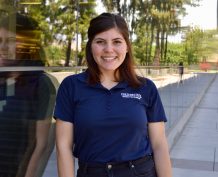 Anyssa Garza is returning for a fourth year as an adviser with the Central Valley Emerging Leaders Summit, helping young potential leaders "create courage within themselves."
"I see the impact the program makes within these students," said Garza, a Fresno State graduate student working toward her masters in educational leadership. "We give these students the tools and resources to grow as leaders and make a change within themselves and their communities, and being a part of that process is rewarding."
About 100 juniors and seniors from 23 Central Valley high schools will participate in the fourth annual Central Valley Emerging Leaders Summit July 31 through Aug. 2 at Fresno State. The summit was designed to inspire area high school students who have leadership potential and provide tools and strategies to take back and use at their high schools and in their communities.
The concept for the summit was born out of the University's 2015 Bold Ideas Challenge, in which faculty and staff were invited to submit ideas to improve services to students or enhance processes. Staff members from various offices and departments across the University then worked to develop the idea and make it a reality.
Garza has been a part of every summit so far. She's seen some of the high school participants go on to become Fresno State students. She has even recommended the program to her younger sister.
"She is interested in doing it the summer before her senior year," Garza said. "I wish something like this was offered to me when I was in high school. I think if I were given the opportunity to participate in high school, I would take full advantage of it because you're not only being exposed to the program but also the college experience."
During the free, three-day, two-night camp, students will hear from faculty, staff and community members, engage in hands-on activities and network with Fresno State student leaders while experiencing on-campus living and dining in the dormitories and the University Dining Hall.
"We continue to support this summit to give every young participant the opportunity to examine and strengthen their leadership skills," said Fresno State President Joseph I. Castro. "We give them essential tools to take back to their high schools, home and communities to make a positive difference in the Valley's quality of life."
Dr. Frank Lamas, vice president of Student Affairs and Enrollment Management at Fresno State, will welcome students at 10 a.m. July 31 at the University Dining Hall. After lunch, several community members will share leadership vignettes from 1:15 to 2:15 p.m. in the North Gym (Room 118).
1:15 p.m. — Matt Grundy, CEO of Fresno County Habitat for Humanity
1:35 p.m. — Dora Westerlund, CEO and president of Fresno Area Hispanic Foundation
1:55 p.m. — Diego Arambula, partner at Transcend Education
In addition to leadership labs and workshops, students will take part in experiential E.D.G.E. Ropes Course activities from 8 a.m. to noon on Aug. 1.
"The biggest impact that you see the program have on the students is creating courage within themselves," Garza said, "the courage to get out of their comfort zone, and be comfortable with being uncomfortable. I see this transformation when the students participate in the ropes course. Some of the students are scared to participate, but with the support and cheers from their peers, it gives them the courage to continue on."
The summit will close Friday afternoon with Jim Yovino, Fresno County superintendent of schools, as the closing speaker. Participants will then receive their certificates in front of family and supporters.
For more information, contact Lisa Boyles at 559.278.5366 or lboyles@csufresno.edu.