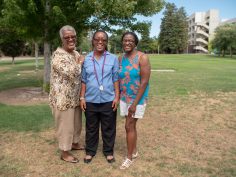 As Deborah Hopson pulls into the driveway of her Fresno home, her daughter Porcha stands by the front door, eagerly awaiting to help bring in the groceries.
Deborah describes her adopted daughter as having a "servants heart," always concerned with the people in the world around her.
Porcha, 30, has a mild intellectual disability and her mother wanted to be sure that as she entered adulthood, she would be able to be on her own and have independence. But they needed help.
"We searched high and low and — nothing. Everything came up short of what she needed," Deborah said. "When we found Wayfinders it took us a year to get all the requirements together."
Wayfinders is a two-year independent living certificate program at Fresno State for young adults with intellectual and/or developmental disabilities. Students at Wayfinders increase their independence by living in student apartments, participating in work experience internships, taking classes at Fresno State and engaging with the community.
Deborah and Porcha stayed up late completing the Wayfinders application. Porcha remembers writing her own personal statement.
"It was so worth it," Deborah said.
Porcha completed the two-year Wayfinders program in spring 2019. While in the program, she was able to do something she never thought would be in her future — walk across the Fresno State campus as a student, just the same as her sister, a Fresno State graduate, did a few years prior.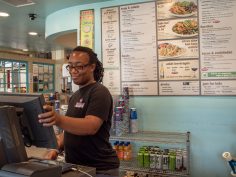 One of the key components of the Wayfinders program is to provide its students with vocational experience. Students are provided a new work experience each semester to learn skills such as work ethic, problem-solving, teamwork and accountability. Porcha worked at REI, Duncan Enterprises and Wahoo's Fish Tacos. Wahoo's didn't want to lose her and offered Porcha employment before she completed the Wayfinders program.
Porcha has been an exceptional student at Wayfinders. When she reminisces about the past two years, she says the program has been very exciting and has taught her patience and how to be a better communicator.
Leslie Shirakawa, a vocational specialist at Wayfinders, says Porcha is much better at advocating for herself. Shirakawa has been helping Porcha with the development of her career. She is currently helping Porcha obtain a forklift certification, a transferable skill that the California Department of Rehabilitation assists with.
Porcha has many exciting things waiting in her future. She is moving into an apartment with other Wayfinders graduates and she is planning to one day work for Wayfinders and support herself.
For more information about Wayfinders, or to learn how to support the program, visit fresnostate.edu.