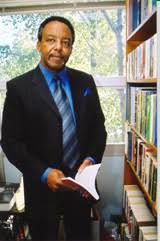 Dr. James E. Walton, a professor emeritus of English at Fresno State and the first faculty to serve as coordinator of the University's Africana Studies Program, died in Fresno on Aug. 15. He was 74.
An educator for more than half a century, Dr. Walton taught American literature and writing at the University from 1990 to 2018. He retired as chair emeritus of both English and Africana Studies.
Before coming to Fresno State, Dr. Walton taught for 20 years at Mount Union College in Alliance, Ohio, where he received the Great Teacher Award in 1989. He previously taught for three years at Canton McKinley High School in Canton, Ohio.
Honora Chapman, interim dean of Fresno State's College of Arts and Humanities, praised Dr. Walton's high level of professionalism, especially during his multiple terms as English chair. "He managed the largest faculty in our college with great skill and humanity," she said.
Michelle DenBeste, dean of Fresno State's College of Social Sciences, said Dr. Walton's leadership was crucial in building an Africana Studies Program that would endure. "Even when he was no longer chair and was housed in another department, he still served as a mentor to faculty and students," she said.
Dr. Walton specialized in American literature. His published scholarship covered a broad range of writers, artists and topics: James Baldwin, Langston Hughes, Richard Wright, Chester Himes, Malcolm X, Alex Haley, Arthur Miller, August Wilson, Miles Davis, Ralph Ellison, the Harlem Renaissance and standardized test scores.
For many years, Dr. Walton served as a table leader and consultant for the Educational Testing Service of Princeton. In 1998, he taught an American literature course to students in Tokyo, Japan via the internet, the first Fresno State course to be taught internationally by remote. At both Mount Union and Fresno State, he taught as an exchange professor in Osaka, Japan, and in Seoul, South Korea.
Meta Schettler, associate professor of Africana Studies, credited Dr. Walton with growing Africana Studies, previously known as Ethnic Studies, after the creation of a bachelor's degree in 1999.
"Jim's unflagging kindness and generosity made him a consummate teacher," Schettler said. "As Toni Morrison taught us, 'The function of freedom is to free someone else,' and Dr. Walton served tirelessly to expand freedom by promoting American literature, African American culture, and a true and abiding love of reading and books."
Schettler said Dr. Walton significantly increased the program's outreach by establishing the Fresno State Gospel Choir; by serving as adviser to Uhuru Na Umoja, the Black student newspaper on campus; and by supporting student-centered events such as the Dr. Martin Luther King, Jr. student conference, which at one time brought up to 500 Central Valley K-12 students to campus annually to commemorate Dr. King's legacy of service and social justice.
As a young person, Dr. Walton was on the National Mall in 1963 for Dr. King's famous "I Have a Dream" speech.
With Malik Simba, professor emeritus of Africana Studies and his longtime friend and collaborator, Dr. Walton co-founded the Gunnar Myrdal/Martin Luther King Jr. lecture series, which has brought to campus such speakers as Cornel West, Michael Erik Dyson, Essence editor Susan L. Taylor, Terry McMillan, Donna Brazile, Eugene Robinson and more.
Lisa Weston, interim chair of the English Department, said Dr. Walton was "a role model for collegiality" and an exemplary mentor. "Jim was also a role model as a teacher," Weston said, "probably one of the best and most engaged, and certainly among the most beloved, teachers at the University."
Dr. Walton's survivors include his wife, Doris Walton; son, Leonard Longmire; daughter, Tiffany Medois; grandchildren Lenell Longmire and Solomon Walton; and great-grandchildren Arianna and Lathan Longmire. He is also survived by five sisters and two brothers.
There will be no funeral services. Faculty and staff from English and Africana Studies will present a memorial tribute in honor of Dr. Walton at 2 p.m. Sunday, Sept. 15 inside the Wahlberg Recital Hall, in Fresno State's Music Building. Admission is free. Parking is free in recommended lot P31 or P30.
The family requests that in lieu of flowers, memorial gifts can be made to a Lewy body dementia or an Alzheimer's support organization of choice.