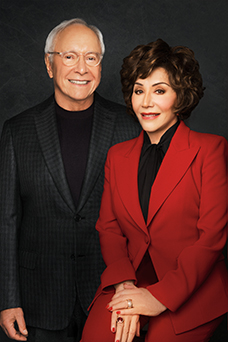 After a historic vote last year by Fresno State students to build a new student union, philanthropists and entrepreneurs Lynda and Stewart Resnick, owners of The Wonderful Company, have made a $10 million investment to make this new facility a reality.
The generous commitment, the largest ever made to a student-life initiative at Fresno State, will transform the University by supporting a central hub for students on campus, one that will accommodate the growing student body for years to come.
On Sept. 24, the California State University Board of Trustees approved naming Fresno State's new student union the Lynda and Stewart Resnick Student Union. The Resnicks' gift will support the design, construction, operation and maintenance of the new building, which will embrace the tenets of sustainability and achieve LEED Gold-equivalent certification, incorporating energy efficiencies including solar panels.
"Stewart and I have long supported Fresno State's mission of shaping the Central Valley's best and brightest young minds, while serving as a significant pipeline of talent for businesses throughout the region," said Lynda Resnick, vice chair and co-owner of The Wonderful Company. "Our hope is that this beautiful new facility will empower student success well into the future."
In 1994, the Resnicks established Wonderful Education, with the clear mission to significantly increase the number of college degree-earning students in the Central Valley. With a cradle-to-career focus, Wonderful Education operates three preschools, two public charter schools, an agriculture-focused early college pathway and has awarded classroom grants across 165 schools and 2,350 college scholarships.
A portion of the Resnicks' investment will be used to create The Wonderful Scholar Center within the new student union, a dedicated space where the over 200 Wonderful Scholars scholarship recipients attending Fresno State will receive tutoring and counseling from their college-success specialists.
"We are deeply grateful for Lynda and Stewart's bold and impactful investment in Fresno State's talented and diverse students," said President Joseph I. Castro. "Their generous support for public higher education underscores the importance of private philanthropy and universities joining together to elevate our region and beyond."
Studies have shown that student unions improve retention rates and student success by providing students with a central hub for activities and engagement between classes, said Dr. Frank Lamas, vice president of the Division of Student Affairs and Enrollment Management. Connecting with peers, joining a student club or organization, participating in study groups, catching a lecture, or grabbing a meal all enrich the student life experience and foster a sense of belonging in students.
Research has found that improving a sense of community for students heightens their University experience while working toward finishing their college education. Students who find campus to be an enjoyable, engaging environment will thrive.
"The generosity of the Resnick Family will inspire others to make transformational gifts to advance student success at Fresno State," said Paula Castadio, vice president of University Advancement. "Aligning donor passions with proven high-impact practices elevates our University and its ability to prepare our next generation of leaders."
The 84,000-square-foot Lynda and Stewart Resnick Student Union will include dynamic and interchangeable meeting spaces, dedicated spaces for student organizations and a relaxing outdoor terrace that can be used year-round. The $60 million project is expected to be completed in fall 2021, with a groundbreaking ceremony planned for later this autumn. The existing University Student Union will continue to provide key programs and services that will complement the new facility.
Several other naming gifts have been secured to support various spaces in the Lynda and Stewart Resnick Student Union:
The Leon S. Peters Foundation is giving $1 million in support of the Leon S. Peters Outdoor Event Plaza.
The Honorable Marvin and Jane Baxter are giving $250,000 in support of the Justice Marvin and Jane Baxter ASI Executive Suite.
Ryan and Ashley Jacobsen are giving $25,000 in support of the Ryan and Ashley Jacobsen Associated Students, Inc. President's Office.
Additional gifts large and small are still needed. Those interested in investing in this signature facility can contact David Hembree at dhembree@csufresno.edu or Richard Verducci at richardverducci@mail.fresnostate.edu.