Sarah Hawkins was in bed scrolling through Facebook on a Sunday morning when she saw a post from an old Fresno elementary school classmate about his ailing father. 
The post said something like, "My dad's been on dialysis for six years and the doctor is saying he won't last much longer if he doesn't get a transplant." The family had all been tested to donate a kidney, but no one was a match. 
Hawkins turned to her husband, Ben, and told him that she was going to get tested. Both Hawkins and her husband are Fresno State alumni and had the honor of being President's Honors Scholars in the second class of the Smittcamp Family Honors College. 
The post wasn't asking for a donor, Hawkins said, only for help connecting with donor centers. But she reached out to friend Matthew Gillian, reconnecting after more than 20 years apart, got tested and found out she was a match. 
"When this opportunity popped up, I was like yeah, sure, I'll do it," said Hawkins, who graduated with a degree in kinesiology from the College of Health and Human Services. 
As a child, Hawkins remembers going to the blood center with her parents, who were consistent donors. She helped organize blood drives in high school for one of her best friends who needed blood while fighting leukemia. Hawkins became a blood donor when she was old enough and put her name on the bone marrow transplant registry. She later learned that she could be a living organ donor when a colleague donated a portion of his liver to someone else.
The donor process took about 10 months with physical testing and screening to make sure that the donor and recipient were in good health. They each passed. Their contact was minimal in the beginning although Hawkins said she was really interested in knowing more about the recipient — Dr. Terry Gillian, a retired general surgeon in Fresno — who also has the same first name as her father. 
"They were careful to keep a bubble between us," said Hawkins, coordinator of clubs and organizations at California Polytechnic State University, San Luis Obispo. "If I changed my mind for any reason, they didn't want me to feel pressured that his life was hanging in the balance."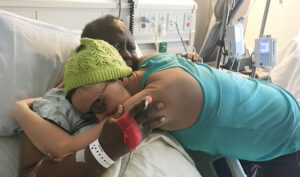 The surgery happened on Feb. 6, 2019, at the University of California, Los Angeles. Terry Gillian received Hawkins' left kidney, which they nicknamed "lefty." He was up and walking around before Hawkins. The surgery is often easier on the recipient than the donor, Hawkins said. 
Since then, the Gillians have become family, Hawkins said. They checked up on her before and after surgery and have kept their friendship strong over the years although they haven't been able to see each other since before the pandemic. 
Terry Gillian came to Fresno for general surgery training in 1975, left the area for a few years,  then returned to open and operate a private practice from 1982 to 2018. 
"It is overwhelming to know and to respect the fact that anyone would consider giving a kidney to someone else, but it is a special experience to know that someone who went to school with your son (and that I may have possibly met when she was very young) was willing to donate a better life to me," Terry Gillian said. "I am beginning to understand that Sarah truly is a special person placed on this earth to take care of this earth. She is truly a bright light that God has allowed to shine in my presence."
While this detail is secondary to their kidney donation journey, Hawkins wants to point out that even though she is white woman and Terry Gilligan is a Black man, they were a perfect match. She encourages everyone to be open-minded about the donation process. "Don't rule yourself out as a potential donor based on your sex, ethnicity or lifestyle. Terry and I may not look like family, but my kidney was still a perfect match."'
The donor journey also helped Hawkins in ways she didn't know possible. She met other kidney donors and connected with organ donation organizations. It started when Hawkins started tagging herself in social media posts as a kidney donor triathlete; that's how she found the Kidney Donor Athletes organization where she now sits on the board of directors. She plans to join the organization in a trek up Mount Kilimanjaro on March 10, 2022, which is World Kidney Day, to raise awareness for kidney donation advocacy. 
"I'm happy to spread the word about the need for organ donation," Hawkins said. "I would love to spread the word to have more people get tested or do whatever they can to support those in need of organ donation."