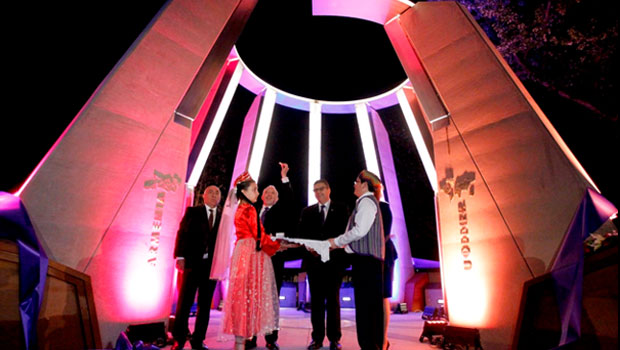 UPDATE 4/25/15: See photo coverage by  FresnoStateNews.com photographer Cary Edmundson featuring the dedication of the new Armenian Genocide Monument at Fresno State: http://on.fb.me/1DG0HyN 
The Little Armenia Community of East Hollywood sent Fresno State a framed certificate of recognition that reads:
"We the Little Armenia Community of East Hollywood thank the California State University, Fresno leadership for installing the Armenian Genocide Monument to remember the victims of the first genocide of the 20th century. We pray and hope that the Armenian Genocide Monument will serve as a beacon for justice and peace on your campus." Signed, Harry Arutunyan, president.
The monument will be dedicated tonight at 7:30 p.m. See: bit.ly/FSN-ArmnGenRemDay. (Editors: please see  advisory for media info).