(April 1, 2016) —Nishaanth Krishnar, an eighth grader from Utt Middle School in Tustin, took top honors at the 2016 California National Geographic Bee held today at Fresno State.
The state champion will receive $100, the National Geographic book "The National Parks: An Illustrated History" and a medal, and will journey to Washington, D.C., to represent California in the National Geographic Bee Championship at National Geographic Society headquarters May 23-25.
Also, Fresno State President Joseph I . Castro offered a $10,000 scholarship to attend Fresno State for the state champion.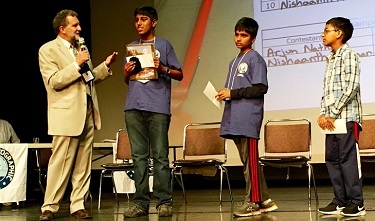 Winning second place was Arjun Nathan, a Hopkins J. High student in Fremont, and third went to Venkat Ranjan of Windemere Ranch Middle School in  San Ramon.
Up to 100 fourth- to eighth-graders in each of the 50 states, the District of Columbia, Atlantic and Pacific territories, and Department of Defense Dependents Schools took part in today's state Bees. The Fresno State site hosted 103 students.
The national champion will receive a $50,000 college scholarship and lifetime membership in the National Geographic Society. The national champion will also travel (along with one parent or guardian), all expenses paid, on a Lindblad expedition to Southeast Alaska aboard National Geographic Sea Lion, including a stop at Glacier Bay National Park, in recognition of the 100th anniversary of the National Park Service. Travel for the trip is provided by Lindblad Expeditions and National Geographic.
Second- and third-place finishers will receive $25,000 and $10,000 college scholarships, respectively.
The national championship preliminary rounds will take place on Monday, May 23, in Washington, D.C. The national championship final rounds featuring the top 10 finalists will be held on Wednesday, May 25, at National Geographic's Washington, D.C., headquarters.
This year, the final rounds will be moderated for the first time by humorist and journalist Mo Rocca.
National Geographic Channel will air the final round of the National Geographic Bee Championship at 8 p.m. ET/PT on Friday, May 27. It will be aired later on public television stations; check local television listings for dates and times.
Everyone can test their geography knowledge with the exciting GeoBee Challenge, an online geography quiz at www.nationalgeographic.com/geobee, which poses 10 new questions a day.
Note to Editors: 2016 National Geographic Bee press resources can be found at http://Bit.ly/GeoBeePress .
Original press release: bit.ly/FSN-CalifGeoBee16
#GeoBee
About the National Geographic Society
National Geographic is a global nonprofit membership organization driven by a passionate belief in the power of science, exploration, education and storytelling to change the world. We fund hundreds of research and conservation projects around the globe each year. With the support of our members and donors, we work to inspire, illuminate and teach through scientific expeditions, award-winning journalism, education initiatives and more. For more information, visit www.nationalgeographic.org.