Mexican recording artist and actress Carmen Jara will be honored at a free, public college information fair at Fresno State conducted in Spanish and designed primarily to help increase the number of Latino students who attend and graduate from college.
Part of the California State University system's Latino Initiative held at three campuses throughout the state, La Feria de Educación will be from 10 a.m. to 4 p.m. on Saturday, Oct. 20, on the Maple Mall (south of the Satellite Student Union) at Fresno State with 10,000-plus expected to attend.
Jara will be recognized as "Embajadora de la Feria de Educación" (Ambassador of the Education Fair) after University President Joseph I. Castro delivers the welcome at 10 a.m. for the event presented by Fresno State, the California State University, Spanish-language television network Univision and the Mexican Consulate in Fresno.
The CSU and its Fresno, Northridge and Sacramento campuses partner with local community groups to "provide the information families need to ensure their children are academically prepared to attend college, become knowledgeable about the many resources available and visit Fresno State," said Martina Granados, director of Fresno State's Outreach and Special Programs.
"These efforts support the CSU's Graduation Initiative 2025 target focused on increasing the completion rates of first-time freshmen, transfer, low-income and underserved students," said Granados, who is co-chair of the local Feria committee with Lupita Lomeli of Univision Fresno.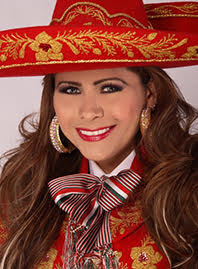 Feria features a college resource fair with representatives from colleges throughout the state, workshops including education path and financial aid tools, food vendors, guest speakers and special activities for children, such as a visualization booth where students can pose for photos depicting their future careers. A reading garden features local leaders like Castro reading to children. This year Feria will be expanding its kid's zone, featuring science, technology, engineering and mathematics related activities and more.
Live entertainment includes student performances by the Fresno State Mariachi and Los Danzantes de Aztlan Mexican folkloric dance troupe. Fresno State alumna Alejandra Tejeda returns for the third year to sing the national anthem.
Jara, also known as "La Reina del Jaripeo," is considered a key figure in the Mexican regional music movement. She started her own record label, "Yaqui Records," and has recorded more than 30 albums to date. Jara is also a composer, an actress and a businesswoman.
She has collaborated with many artists during her career, including Jorge Hernandez of Los Tigres, FATO, Guadalupe Esparza Bronco, Grupo Exterminador, Los Bondadosos, Super Bandido, Susan Obregon and Ernestina Barra, who is Jara's mother.
Jara supports several organizations and events held for abused women, immigrants and farmworkers. She understands the people of the Central Valley and she stands with them, Lomeli said.
The College of Science and Mathematics at Fresno State will present Day of Discovery in partnership with Feria de Education. Day of Discovery will offer interactive activities for ages 2 to 92 next to the Maple Mall and Satellite Student Union.
Other Feria collaborators are Kern County Superintendent of Schools Migrant Education, Tulare and Kings Counties Migrant Education Program, Merced County Office of Education and Migrant Education Program, Assembly Member Dr. Joaquin Arambula, Clovis Community College, Fresno City College, Fresno County Preterm Birth Initiative Parent Institute for Quality Education and Fresno State programs: Outreach and Special Programs, California Mini-Corps, Educational Talent Search, Upward Bound Programs, Dream Outreach Center, Fresno County Superintendent of Schools and Fresno Unified School District.
Valley residents can sign up for transportation by contacting Lilia Roybal at 559.497.3836 or lroybal@fcoe.org. School districts can register by contacting Angie Iribe at 559.278.2923 or angiemiribe@csufresno.edu.
For more information, contact Martina Granados at 559.278.5374 or martinag@mail.fresnostate.edu.

(Jennifer Madrigal, Outreach and Special Programs student media manager, contributed to this report).